Tuesday, April 24, 2018
Scott Brash Wins €500,000 Grand Prix in Al Shaqab, Doha
Saturday 04 March 2017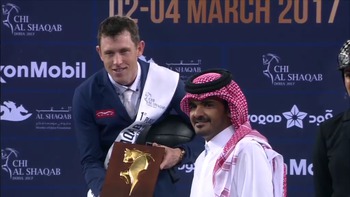 It was an awesome win for Scott Brash in the CSI 5* Grand Prix in Al Shaqab, Doha this evening with Ursula XII owned by Lady Pauline Harris and Lady Pauline Kirkham. After jumping a double clear in the first two rounds, the former World Number One was first to go in the jump-off and posted a faultless performance in a time of 45.21. The 31 year old from Peebleshire, Scotland and the 16 year-old bay mare whom previously topped the FEI Horse Jumping list, and was home bred in Scotland by the Turnbull family, absolutely set the venue alight with their electrifying performance.
Speaking after his win Scott said "I'm delighted with her (Ursula XII) and a win here means a lot to me. We are off to Stuttgart next. I have some promising young horses coming through including one my father bred."
When asked what he will spend the prize money on he added "With horses it goes very quickly, just on keeping them and traveling from show to show."
Second place was won by the only other clear in the jump off, Turkish rider Omer Karaevli on Roso Au Crosnier, who finished on a time of 45.98. The other two riders in the jump-off were Pilar Lucrecia Cordon from Spain and Christian Ahlmann from Germany both of whom recorded faster times but had a fence down.
The CSI 5* Grand Prix was the class all the riders wanted to win and they saved their best horses in the hope of taking a share of the staggering 500,000,00 euro prize fund. Frank Rothenberger set another tough challenge for the forty-two riders who entered. The format involved jumping the first course of fences measuring 1.60m and the top eighteen riders going through to the second round where a new course was built of the same height but a greater technicality. It was an absolute test of stamina, athleticism and speed. There were just four double clears that went through to the jump-off.
In round one, a number of world class riders picked up time penalties including a former CHI AL SHAQAB Grand Prix winner Edwina Tops-Alexander (AUS), Niels Bruynseels (BEL) and Qatar's Sheikh Ali Bin Khalid Al Thani which put them out of the running for the jump-off round.
For full results and further information visit www.alshaqab.com