Kathryn Ellison takes the Speedi-Beet Grade C Championship
Saturday 07 October 2017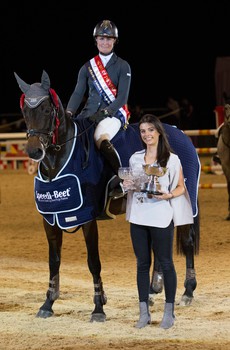 Kathryn Ellison hailed the biggest win of her career after posting a stylish victory in the prestigious Speedi-Beet Grade C Championship at Horse of the Year Show. The West Dorset showjumper emerged victorious with her home-bred nine-year-old bay mare, Cherokee Bay, following a five horse jump-off, clocking a time of 42.93 seconds.
She won by almost a two-second margin from Joe Clayton and Eye Catcher, while Will Fletcher rode Persimmon - fourth-placed finisher at the 2015 European Eventing Championships with Olympian Kitty King - into third spot. Joe Fernyhough and Calcourt Quicktime finishing 4th whilst the fifth and final jump-off rider Chloe Winchester finished in 5th place despite having posted the fastest time as a result of lowering two fences.
Previous winners of the Grade C Championship include Tim Stockdale, Billy Twomey and William Funnell, and Kathryn had no doubt where her impressive victory ranks.
"It means everything," she said. "It is the biggest win of my career. To do it on a big stage like this one is fantastic. I did not expect it for a moment. I had nothing to lose after making the jump-off, and it was about making the most of it.
"She is a horse that we produced from the start - she is home-bred - and I think she has got all the ability in the world. I get more nervous in the qualifiers for Horse of the Year Show. Once you have got here, that is what you are aiming for, so you might as well enjoy it. I knew we were capable. I
know the atmosphere is different, but you just have to ignore that. That's my job."
LINK TO AUDIO INTERVIEW WITH KATHRYN ELLISON:
http://www.lloydbell.co.uk/access/client_zone/Hoys_Ellison_day4.mp3
Speedi-Beet from British Horse Feeds:
British Horse Feeds, makers of Speedi-Beet, is the equine feed division of I'Anson Bros Limited and is based in Masham, North Yorkshire. British Horse Feeds is best known for its flagship product 'Speedi-Beet' which, thanks to the unique patented process has revolutionized the feeding of beet pulp. Speedi-Beet has improved nutrient availability and soaks in just 10 minutes, compared to 24 hours for sugar beet pellets. It's a great way to add quality fibre to your horse's diet for slow release energy. Fibre-Beet, a formulated blend containing Speedi-Beet and alfalfa has the benefits of Speedi-Beet with extra conditioning. For more information contact British Horse Feeds on 01765 680300 or visit our website on www.britishhorsefeeds.com.
Image Credit: Julian Portch Photography