John Whitaker wins NAEC Stoneleigh Stakes at HOYS
Friday 06 October 2017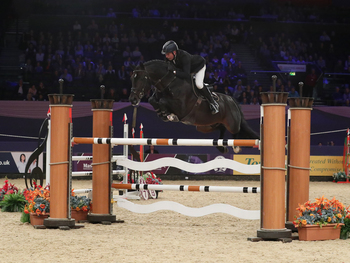 Tonight was the turn of Great Britain to head the line-up when John Whitaker won the NAEC Stoneleigh Stakes at Horse of the Year Show, Birmingham.
Riding his and wife Clare's home produced and British Bred 15 year-old stallion Argento, he claimed victory over Phillip Miller with Emma Ziff's 8 year-old bay gelding Roulette H who took eventual 2nd place. John's time of 29.07 seconds showcased this impressive stallion at his best delivering a time that most had thought impossible having watched Phillip and Roulette H lay down the gauntlet in 29.49 seconds.
The uniqueness of the competition, in that the riders could decide their own route to allow them the quickest time, is always an attention grabber and tonight was no exception with spectators on the edge of their seats for the final round. Greeting John with rapturous applause and cheering they couldn't have been more delighted when he claimed the top prize of £7,350 offered within the 1.55m class making it a top two victory for Great Britain with Phillip finishing in 2nd place. The third and only other clear of the competition came from Emma Augier de Moussac with JCS Chacco Dia who had been relegated by Phillip by just 13/100'th of a second.
Talking afterwards John said "I took a bit of doing. I worked it out in my mind and I stuck to it and it paid off. Argento is on good form, and he has been jumping really well for the past three months. I walked the course, and I thought it was quite good for me."
For full results http://bit.ly/2fQUYUN