Thursday, April 26, 2018
British Showjumping's Team NAF Juniors win European Team Silver
Friday 11 August 2017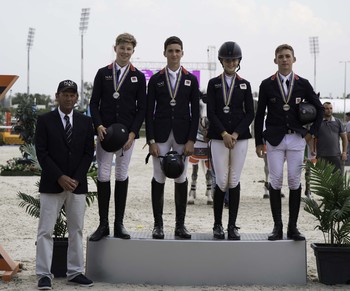 The British Junior team competing under the Team NAF sponsor title won Team Silver this afternoon at the FEI Children, Junior and Young Rider European Championships in Samorin, Slovakia.
It was an incredibly long and hard fought for medal with the competition having started this morning and the final podium positions not being decided upon until 5pm this evening after a jump-off for Bronze position. The team had all delivered well from the outset under the guidance of Chef d'Equipe Tony Newbery with them sitting in Silver medal position at the halfway stage and never faltering from it as the competition progressed.
The first round had seen Team NAF finish on just two time penalties to carry forward with Italy being the nation to beat who sat on zero penalties at the halfway stage, an impressive position that they managed to hold onto until the end to take the Gold medal. With the time being tight it was a number of competitors that picked up time penalties, two of which were unfortunately Brits in the first round which were also accompanied by a clear from their pathfinder. The second round saw the two Team NAF riders that had picked up a time penalty apiece push forward slightly to deliver faultless clears within the time allowed. Their brilliant performances were enough to ensure Great Britain of a Silver medal but it was a wait with baited breath whilst the final rider for Italy came forward as anything other than a clear by them would have meant a Gold medal finish for GB.
With Italy jumping clear in their final round their place at the top of the podium was secured with GB retaining the silver position that they had assured themselves of. For France and Germany who sat in equal 3rd on 14 penalties it meant a jump off for the final medal placing. It was Germany that took the honours with their 8 penalty jump-off score giving them a jump in hand ahead of France who finished 4th.
Robert Murphy, aged 16 from Preston in Lancashire set the team off in superb style when, in the role of pathfinder, he delivered a foot-perfect clear within the time allowed to return home on zero penalties. Riding Del Fuego, a 14 year-old bay gelding owned by Eleni Murphy and Catherine Witt, his forward going clear was one of a low percentage achieved across the field in the first half of the competition. The second round saw them also put in a determined performance and they were unlucky to pick up 4 penalties when a pole lowered.
For Scarlett Charles from Alton, Hampshire on her father Peter's 11 year-old grey mare Sacree Du Rouet it was an extremely uncharacteristic 8 penalty finish in the 1st round. The second round brought with it a touch at a fence early on in the course and breaking the line just outside the time allowed it was a 5 penalty finish that saw them become the dropscore.
Jack Whitaker, from Whatton, Nottinghamshire was third to go for the team on his father Michael's 11 year-old stallion Street Hassle. Aged just 15, Jack was making his debut on a Junior Championship having come off ponies early following his Individual Gold medal win at the Pony European Championships last year. His first round had seen all fences left untouched however finishing just outside the time allowed it was a time penalty that was accrued and ultimately carried forward. Their second round however saw them take the time limit on board and their forward paced clear saw them return home with zero penalties to add and assured of a Team Silver medal.
Harry Charles from Alton, Hampshire who has just recently turned 18 years put in two impressive rounds with Vivaldi du Dom, an 12 year-old chestnut gelding owned by father Peter. Their first round, which the same as Jack's, had seen all fences left untouched saw them come through the finish line just outside the time allowed to be awarded a time penalty which saw GB carry just the 2 penalties through to the second round. Harry who has been having considerable success on the senior international stage recently came forward to the second round aware that he needed to keep moving forward to avoid another time penalty and this is exactly what he did when he posted a precision clear within the time allowed to finish on zero penalties.
The Junior riders will now be focused on contesting the Individual medals on Sunday 13th August. Great Britain have three riders sitting within the top ten with Harry Charles, Jack Whitaker and Robert Murphy in 3rd, 7th and 8th place respectively.
Today's Team Silver follows the Team Gold achieved by the Children's Team yesterday, whom also compete under the title banner of Team NAF.
For further information on the show and full results, visit www.xbionicsphere.com/en/equestor.
British Showjumping would like to thank NAF, title sponsors of the Senior Nations Cup Teams along with the Children, Junior and Young Rider teams.
NAF's premium range of Five Star brands include Superflex, Superflex Senior, PROFEET, Optimum, Magic, Oestress and Respirator Boost with quality at the heart of everything they do. They are a UFAS (Universal Feed Assurance Scheme), GMP+ (International Feed Assurance Scheme) and BETA NOPS (Naturally Occuring Prohibited Substances) accredited company and this enables them to guarantee full traceability on all the natural ingredients they utilise in their formulations, which are also selected in compliance with the FEI guidelines for Clean Sport. For further information, visit www.naf-equine.eu/uk/index.jsp.
The GBR showjumping teams are supported by the British Equestrian Federation's World Class Programme, funded by UK Sport through the National Lottery. The Programme focuses on identifying talent, developing potential and maximising medal-winning performances on the world stage.