Sun Shines on Theo Simpson
Saturday 18 June 2016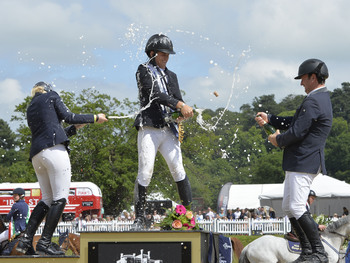 Theo Simpson hailed the quality of his winning ride Touch of Chilli after they made their mark in glorious sunshine at the Bolesworth CSI **** International on Saturday.
The two-star grand prix, sponsored by Ashford Farm, saw 13 combinations contest the jump-off, and it was the 12-year-old chestnut mare that came out on top.
A time of 41.89 seconds meant they took the £6,400 first prize in comprehensive fashiom with Anna Wilks - an experienced and successful eventer - finishing second aboard Undicci, with Ireland's David Quigley third on EIS Isaura.
"I am over the moon," Simpson said. "The horse has been on great form, having been second about a month ago in a two-star grand prix.
"It was a tough enough track out there, and he performed when he needed to, so I am really happy.
"I have had the horse for two years now. I got him two months before I finished my A levels, and he has really been going amazingly during the past few months. We've really gelled.
"He's fast, agile, and he has got the biggest heart you could ever have in a horse."
Simpson also revealed some sage-like jump-off advice from his father, adding: "My dad told me exactly what I had to - go as fast as I can without knocking anything down!"
Wilks, meanwhile, said: "I have had a really good day. He is quite a new horse to me, and he jumped his socks off for me out there."
And for Quigley, it was another day that showcased Isaura's rich promise.
"She is only an eight-year-old," he said. "That's her fourth grand prix now, and she has only had one fence down in four international grands prix. I am thrilled with her."
Early in the day, Emily Ward and Doobally won the two-star jump-off class, sponsored by Gain Horse Feeds, clocking a time of 33.79 seconds , while Sophie Fawcett continued her impressive Bolesworth form by taking second aboard Quite Cadiz, with David McPherson (Sirocco) third and Chloe Breen (Zidane VIII) fourth