Sunday, June 24, 2018
Nick Skelton and Big Star Repeat Victory in Wellington, Florida
Sunday 18 March 2012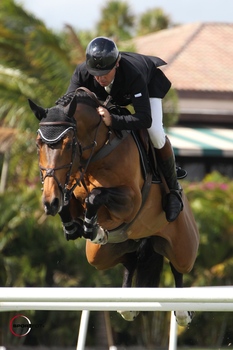 The tenth week of the FTI Consulting Winter Equestrian Festival (FTI WEF) concluded with a day full of showjumping at The Stadium. Nick Skelton with Beverly Widdowson's Big Star earned yet another victory in the $80,000 Pennfield Feeds Grand Prix.
Beating Irelands, Cian O'Connor and KEC Alligator Alley and Great Britain's David McPherson and the eye-catching grey gelding Chamberlain Z whom he jointly owns with Ansgar and Ellen Holtgers in a three horse jump-off.
The class which saw forty five competitors was a particularly testing one where only three were able to clear the first round. With two of the three being British it was a result for British Showjumping in particular as Nick and Big Star were defending their title having one it the year previously.
With both David and Cian incurring four faults each Nick secured the class by producing the only double clear of the competition. A result even more impressive bearing in mind he also produced the fastest round in a time of 39.95seconds.

Cian O'Connor and KEC Alligator Alley, owned had one rail at the last jump and a time of 41.93seconds to finish second. David McPherson and Chamberlain Z also had a rail in the jump-off and their time of 42.49 seconds placed third.

Big Star is a nine-year-old KWPN stallion by Quick Star x Nimmerdor. The combination were the first pair to show in the day's class and held the only clear round for most of the afternoon. O'Connor and McPherson did not show until 40th and 41st in the order of go, and cleared the course back to back.

Commenting on the jump-off, Nick said "He's a quick horse, but I didn't go crazy. When you've got two like this after you, you never know what's going to happen. Don't believe any of them when they tell you they're just going for a steady clear. Even if there are only two in the jump-off, you've still got to go. You can't be nonchalant about it. You've got to get stuck in and go."

Nick acknowledged the great success that he has had with all of his horses during this year's FTI WEF. "The horses have gone really well here," he said. "I'm lucky because I've got two very, very good horses. Probably as good as anybody's got. That makes life a lot easier. They make me look good."


Third place finisher David McPherson was also happy with his horse Chamberlain Z and today's outcome. "He has finally got it together today and he jumped great," McPherson said. "Under no circumstances would he ever catch Nick. Also I have not been in many jump-offs with him. He has jumped fabulous round after fabulous round, but I didn't want to go and do anything lunatic. I'm pleased with him."

David praised Nick on his success by saying. "He's brilliant on two fabulous horses at the moment. He's riding with absolute confidence. It just looks like he's in the groove," he acknowledged. "It is very rare that you have those 'purple patches' that are so sustained. It looks like he's going to have a phenomenal year."

On his placing in today's class, David noted that it will help in qualifying for the $500,000 FTI Consulting Finale Grand Prix in week 12. "This was actually quite important for me to get a place here because I have only done three or four grand prix. I needed to get some points, so good job for me. I'm really pleased," he said.



Final Results: $80,000 Pennfield Feeds CSI 3* Grand Prix

1. BIG STAR: 2003 KWPN stallion by Quick Star x Nimmerdor
NICK SKELTON (GBR), Beverly and Gary Widdowson: 0/0/39.95

2. KEC ALLIGATOR ALLEY: 2002 Irish Sport Horse gelding by Aldatus Z x Clover Hill
CIAN O'CONNOR (IRL), Sinead & Oonagh Kennedy: 0/4/41.93

3. CHAMBERLAIN Z: 2001 Zangersheide gelding by Chellano Z x Peter Pan
DAVID MCPHERSON (GBR), David McPherson & M/M Holtgers: 0/4/42.49

4. BLUE CURACAO: 2001 BWP mare by Mr. Blue x Dark D'Amour
ALEXANDRA THORNTON (GBR), Dunwalke LLC: 1/85.57

5. AHORN VAN DE ZUUTHOEVE: 2002 Hanoverian gelding by Acorado x Calypso II
RICHIE MOLONEY (IRL), Equinimity LLC: 1/87.91

6. SHOWGIRL: 2000 Selle Francais mare by Gold De Becourt x Elf III
JONATHAN ASSELIN (CAN), Attache Stables: 2/91.70
Photo Credit: Photos © Sportfot, Official Sport Photographer of the FTI Winter Equestrian Festival, www.us.sportfot.com.