Monday, June 25, 2018
GBR Score Again in Florida
Monday 12 March 2012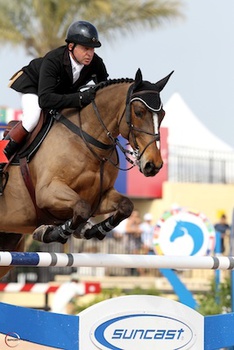 The ninth week of competition at the 2012 FTI Consulting Winter Equestrian Festival concluded on Sunday with a one-two finish for Great Britain in the $32,000 Suncast® 1.50m Championship.
Nick Skelton with Beverley Widdowson's 11 year old bay gelding Unique XVIII took home the top prize with Tina Fletcher and Lady Harris's 11 year old bay gelding Unique IX in 2nd. USA's Katie Dinan and Nougat Du Vallet finished 3rd.

Competing over a course set by Leopoldo Palacios of Venezuela, fifty seven entries started the class, and just six were able to clear the obstacles without fault. The jump-off saw only two clear rounds.

Tina Fletcher and Meredith Michaels-Beerbaum were the first two competitors in round one to jump clear and were then first to jump-off. Tina rode first in the jump-off and went clear in 39.08 seconds to earn the 2nd place prize.

Germany's Meredith Michaels-Beerbaum went next aboard Cantano, owned by Octavia Farms LLC. In the jump-off, the pair had a rail at the first fence and stopped the clock in 38.80 seconds to finish in 6th.

Young American rider Wilton Porter put his name on the jump-off list aboard Sleepy P Ranch LLC's Paloubet, but also had a rail over the short course and finished in fifth with his time of 36.33 seconds.

Nick Skelton and Unique XVIII made it to the jump-off next and the pair jumped a clear round in 35.03 seconds to take over the lead. Ben Maher and Katie Dinan (USA) each bettered Nick's time, but incurred faults. Ben and Louise Flower's Rowan stopped the clock in 34.99 seconds with 4faults and finished in 4th place. Dinan and Grant Road Partner's Nougat Du Vallet were last to go and finished the jump-off course in 32.86 seconds with 4faults to place 3rd.

Winners Nick and Unique XVIII won the first Suncast 1.50m Classic during week one of the FTI WEF and are currently leading the series standings.

On his ride in the class today, Nick stated, "I thought Unique felt really good. He has done the 1.50m every week and has been great. I thought maybe I might have placed 3rd when I came out from the jump-off because I wasn't that quick. I thought it wouldn't take much to beat me to be honest, but luckily the other two had rails. I didn't think I was particularly quick, but I was clear and that was the main thing."

Commenting on the course, Nick noted, "I actually thought it was difficult enough, and then when he pulled the time back that made it more difficult. It was big enough and tricky enough. He had a lot of scratches in that, but I think six clears is quite fair enough."

Unique XVIII will have next week off and then return to compete in the 1.50m classes during weeks eleven and twelve to round out the circuit. For now, Nick was happy to end this week on a high note. "It's nice to end the week on a win," he acknowledged. "It wasn't looking too good during the week, but it ended up okay."

2nd place finisher Tina Fletcher went first in the class and was happy with her round.
"I think I was quite lucky because I went first in the whole class and the first two were clear and then they changed the time, which I think was in my favour because they made it a really tight time after that. I was surprised how much trouble it caused with the course," Tina stated. "He was good, I was really pleased with him, I have had him for about a year. He is basically my second horse, but he has done quite a bit. He jumped on a Nations Cup team last year and he has been good here. He was second in one of the WEF classes on the grass. He is a nice horse; he is usually very consistent."

This is Tina's first time competing at the FTI WEF and she has had a great experience along with her fellow British riders. "I love it here. It is a great place to be; it is lovely," she concluded.

Final Results: $32,000 Suncast® 1.50m Championship Jumper Classic
1. UNIQUE XVIII: 2001 KWPN mare by Indoctro x Voltaire
NICK SKELTON (GBR), Beverly Widdowson: 0/0/35.03
2. UNIQUE IX: 2001 KWPN gelding by Heartbreaker x Vasco
TINA FLETCHER (GBR), Lady Harris & Lady Kirkham: 0/0/39.08

3. NOUGAT DU VALLET: 2001 Selle Francais gelding by Scherif D'elle
KATHERINE DINAN (USA), Grant Road Partners: 0/4/32.86
4. ROWAN: 2003 stallion
BEN MAHER (GBR), Miss Louise Flower: 0/4/34.99
5. PALOUBET: 2001 Selle Francais gelding by Baloubet Du Rouet x Voltaire
WILTON PORTER (USA), Sleepy P Ranch LLC: 0/4/36.33

6. CANTANO: 2000 Holsteiner stallion by Cascavelle x Acord
MEREDITH MICHAELS-BEERBAUM (GER), Octavia Farms LLC: 0/4/38.80
Photos © Sportfot, Official Sport Photographer of the FTI Winter Equestrian Festival,
www.us.sportfot.com
.