Four dogs named after Olympic showjumping champions
Friday 10 August 2012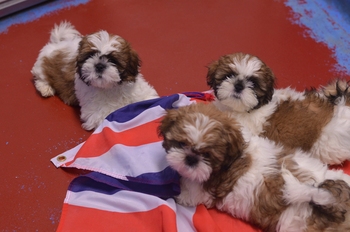 Battersea Dogs & Cats Home has celebrated Team GB's showjumpingGold medal victory yesterday by naming four of its homeless dogs after winners Nick Skelton, Ben Maher, Scott Brash and Peter Charles.
Nick Skelton from Warwickshire has a 10 week old Shih Tzu puppy named in his honour. Skeltie the pup was brought into the home after her owner was unable to keep her and her siblings. She arrived with her sister Maher, who has been named after Ben Maher from Hertfordshire. Their brother Scott has been named after Scott Brash from Tweeddale. All three are very lively and always on the go and enjoy working as a team when they play, just like the Olympic champions.
They are joined by Peter the one year old Staffordshire Bull Terrier, who arrived at Battersea as a stray, and has been named after Peter Charles from Hampshire. He is an intelligent and friendly lad, and like the puppies he has lots of energy.
The four dogs are now hoping some of their namesake's success will rub off on them as they search for new homes.
Operations Manager Claire Porteous explains: "Skeltie, Maher, Scott and Peter are the perfect names for these dogs. Like the gold medallists they are all intelligent and driven and clearly havetheir eyes on the prize, as they want to bag a new home.Here at Battersea everyone, including our dogs and cats, is right behind Team GB and we hope that naming some of our animals after the team will help spur them on to win even more medals."
The dogs are among 26 dogs and cats at Battersea named after Team GB Olympic gold medal champions. They include Jack Russell Murray, Staffies Mo, Ben and Jessica and Golden Retriever Rutherford.
Battersea has already had a taste of the excitement surrounding the Olympics, after the Flame made a special visit to the Home last month. Former England player Michael Owen carried it through Battersea, accompanied by Rory the Staffie, and they were watched by a doggy Guard of Honour of over 50 dogs.