British showjumping Ambassador – Jennifer Saunders – Back in the Saddle
Friday 10 August 2012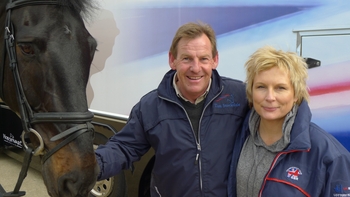 "I'm terrified. I'm absolutely terrified. I have to tell you that now…I really don't want to fall off, that's my biggest thing. You get to a point in your life where I can imagine how much that's going to hurt. And how many bones will just snap. Because they're probably all just made of powder now anyway..."
Jennifer Saunders
In this iconic Olympic year, Jennifer Saunders is on a one-woman mission to re-engage the nation with horses and the ultra-talented people who ride them. In this new two-part documentary series, she is prepared to put her money where her mouth is by getting back in the saddle herself after a 40 year break from the fearsome world of competitive riding and jumping. 'Jennifer Saunders: Back In The Saddle' is brand new and exclusive to ITV1. Thursday 16 August at 9pm
Jennifer's childhood passion for riding saw her compete until the age of 12 at Pony Club gymkhanas throughout Cheshire. But the pressure of competing became too much. Now we follow her attempts to pick up the reins where she left off, reliving the good and bad times and pushing herself further and further whilst giving a unique view of the worlds of Showjumping and eventing, as well as providing an insight into her own character.
She explains: "From a very young age, horses have been my passion. Particularly the sports of Showjumping and Eventing. As a girl I dreamt of riding horses professionally…but I couldn't take the pressure. My Dad was in the air force, a lot of kids got sent away to school but I decided not to…so I said, 'Don't send me away to school, that's a waste of money, just buy me a pony.' And I got a pony!"
Jennifer recalls spending hours riding after school and daydreaming about being 'spotted' for the Olympic team: "At the time my big heroine was Marion Coakes, who took a pony to the Olympics. This became the inspiration for so many girls of my generation…that you could have a pony and still be in the Olympic team."
After a visit to the annual Olympia Horse Show, during which she is compelled to sniff body brushes and saddle soap, Jennifer is taken over by enthusiasm and commits to getting back in the saddle to jump fences on the biggest stage of them all, at Badminton.
During her preparations to compete in the Grass Roots Challenge, she is trained by the great and good of British Eventing and Showjumping, with Olympic hopefuls 'Piggy' French, Tim Stockdale and Lauren Shannon all on hand-holding duty to give Jennifer the confidence and reassurance she needs to face the tannoy, the judges and the crowds.
Jennifer is in complete awe of meeting Tim, one of the greatest showjumpers in the country, for her first riding lesson since the age of 15. He recently broke three vertebrae in his neck after being dragged through several fences during a fall and admits: "The only guarantee I always say, is that if you want to guarantee not falling off, don't get on…If she's lacking confidence or there is a lack of belief, the horse will feel that straight away."
Embarrassed by how desperate she is to meet the big players in the horsing world, Jennifer's next lesson is cross-country training with her idol Piggy French. Adorning her new inflatable 'air-bag' riding jacket, Jennifer is literally quaking in her riding boots. Piggy is quick to offer reassurance: "We all get apprehensive but as long as she has the attitude that she's wanting to do this and excited, then that's the right sort of nervous."
Jennifer even has the opportunity to compare notes with ex-Olympian Princess Anne as they walk the course together at Gatcombe House and watch her daughter Zara Phillips battle for a place in the British Olympic team. But Princess Anne does little to allay Jennifer's fears: "The thing I think people always ought to remember about horses is they always have the potential to kill you. Even when they're on your side."
Jennifer also relives her childhood by re-visiting the Pony Club circuit she grew-up immersed in. She explains: "I'm very, very competitive. It's like I'm too competitive. So if I think I can't do it, I won't do it."
As her jumping destiny approaches, can Jennifer overcome her fears and jump 20 fences in front of a huge crowd to top her incredible journey? She may need to be dragged to her saddle kicking and screaming, but does she have what it takes to join the riding elite?
'Jennifer Saunders: Back In The Saddle' is brand new and exclusive to ITV1. Thursday 16 August at 9pm