New band DAKOTA to perform at the Alltech FEI European Jumping & Dressage Championships 2009 Band includes Show Jumpers Ben Talbot and Tom Davison!
Wednesday 19 August 2009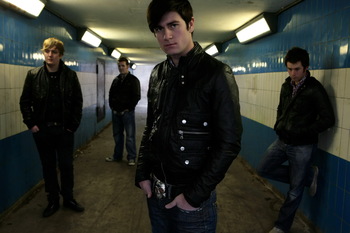 Hot new band DAKOTA, which includes International Show Jumpers Ben Talbot (lead singer) and Dressage supreme Richard Davison's son, Tom Davison (bass) have been picked to perform at Friday night's Alltech World Equestrian Games Gala Night at the Alltech FEI European Jumping & Dressage Championships (25-30 Aug)
Dakota, a new four piece rock band will perform a 45-minute set from their debut album 'Here, There and Everywhere' which is released in autumn '09 through GRL and Right Track Distribution/Universal Music.
Even though both Ben and Tom are keen horsemen, with Ben recently qualifying for HOYS, music is there new love and fans will be able to watch them do their thing as part of an exciting line-up of entertainment on Friday evening.
Dakota have been picked to perform as part of a drive by the British Show Jumping Association to introduce show jumping into the mainstream and encourage more young people to get involved in the sport. Dakota recently enjoyed their first live radio session with BBC Radio 2's Claudia Winkleman and shared the studio with none-other-than Richard O'Brian who was also a guest on the show.
Tom Davison said: "It will be amazing to perform at the Europeans, especially in front of Muhammad Ali. My dad will be there as Team GBR's Dressage Chef d'Equipe so it will be quite strange performing in front of him, at an event he's involved with!"
For more details on Dakota visit: