Thursday, April 19, 2018
Kent News
Monday 21 February 2011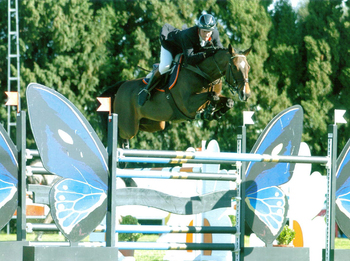 Congratulations to Guy Williams who could tick yet another box for goals achieved in 2010 when he finished the year as Britain's No1. Guy ended the season with outstanding wins in Munich, Geneva (4 wins + leading rider) and Olympia on his ever growing string of talented horses. Not one to rest on his laurels January saw him off to Basel CSI 5* (Switzerland) where yet again he was on winning form and part of the winning team competition, this time partnered with new ride Titus. Guy and his Team leave for the Sunshine Tour next week and we all wish them continuing success.
Junior rider Alex Chitty had a successful trip to his first 148 Premier show at The Hand. With a win in the 148 POYS Special qualifier on Saucy Shenanigans and a 5th on Amilie JR Z, qualifying them both for the final. Alex has taken over the ride on his mothers 2010 Foxhunter champion Amilie JR Z and at his first attempt at the JC qualifiers just missed a qualifying place. Younger sister Jessica is competing at the Small pony premiers and at Arena UK on 15th / 16th January, Jessica went all three rounds in the 128 second round qualifier on Maron's Stardust but unfortunately they didn't qualify this time. Good luck to both these Kent Juniors at their next Premier shows.
Important date for your diaries-AGM is Tuesday 29th March at Duckhurst Farm 8.00pm
Please check our area website and facebook page for updates on news, junior academy training and social events.
Can all Kent members both junior and senior send me your news, events and results to
Jackie@mannixstud.com
for inclusion in future copy.