A STERLING YEAR FOR BRITISH BRED EQUINES CELEBRATED AT THE BRITISH BREEDERS' AWARDS DINNER AND CEREMONY
Monday 14 January 2019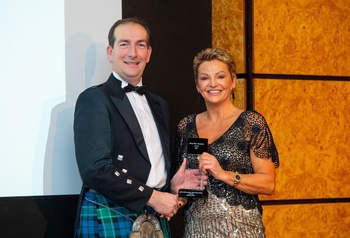 On Saturday 12th January, breeders of the top British-bred horses from around the country converged in London at the Grange City Hotel, for the British Breeders Dinner and Awards Ceremony, organised by the British Horse Foundation (BHF). There has been much to celebrate for British Breeding in 2018 and this glittering occasion affords the breeders of these potential world-class horses the special recognition they deserve.
Guests arrived at the Competition Stallions-sponsored drinks reception before moving on to a sumptuous four-course dinner.
The evening then moved on to the much-anticipated Awards ceremony, this year compéred by Harry Meade, taking over the role from the much missed and loved Mike Tucker, who was fondly remembered by Vincent Jones, Chairman of the BHF during his opening speech.
Young, professional and amateur breeders were well represented throughout the Awards Ceremony that began with the presentations of the British Breeding Futurity Certificates of Merit including a 2 year old certificate of merit which was awarded to Keith Lovelock for Masterclass (Showjumping) among others from Dressage, Eventing and Sports Pony.
In the prestigious Baileys Horse Feeds sponsored Futurity age awards, Rhiannon Stormonth collected the foal award on behalf of her mother Aileen, the breeder of Esme X, a potential Showjumping prospect.
Young horse awards were then presented to breeders of the best British bred young horses in the three main equestrian disciplines; Dressage, Eventing and Showjumping that saw a range of breeders step forward to collect their awards.
The British Showjumping Young Horse Awards were presented to the breeders of the highest placed British bred horses of their age sections at the British Young Horse Showjumping Championships at Addington Manor in August 2018.
Helen Rees for Bianca Du Rouet, the 5 year old winner, John and Clare Whitaker for Shooting Star, the 6 year old winner, with Derek Morton and Geoff Glazzard for Cristo Beech, the 7 year old winner.
A new award this year was sponsored by Gornall Equestrian for the highest placed British-bred mare on a Championship Showjumping Team in 2018, this award went to Wishes, bred by Claire Inglis, whose daughter Amy Inglis collected the award on her mother's behalf and who rode Wishes as part of the gold medal winning GB Young Rider team at the Longines FEI European Young Rider Showjumping Championships 2018 in Fontainebleau, France.
The Anglo European Studbook Award went to Summa's Zorro, bred by Marily Power and Susan Lanigan O'Keefe in recognition of the horse winning the richest prize in Showjumping, the $1,000,000 Spruce Meadows Masters.
The British Hanoverian Horse Society presented awards to the breeders of the best British bred Hanoverians that gained the highest points in International competition during 2018 in the disciplines of Dressage, Eventing and Showjumping.
Image: Helen Rees Winner of the 5 Year Old Award for Bianca Du Rouet Presented by Iain Graham, Chief Executive of British Showjumping