Saturday, May 27, 2017
News
GB's Team NAF retain 2nd place on FEI Nations Cup League Table following Lisbon
Friday 26 May 2017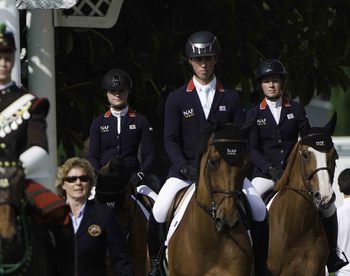 Whilst a 6th place finish in the CSIO3* Lisbon Nations Cup this evening wasn't quite what the British team, competing under the title sponsor of Team NAF, would have hoped for it was still a solid enough placing to retain their 2nd place standing on the overall League Table. This competition, the third point scoring leg of the series for the British team, took place at the Sociedade Hipica Portuguesa in Lisbon, Central Portugal and it was almost midnight when the hard fought for title was awarded to eventual winners Belgium.
Finishing on just 4 penalties Belgium had led the field from the outset with no other nation able to come close as Spain, who took 2nd place, had to satisfy themselves with a total tally of 21 penalties. France, who sat just 3 penalties behind Spain took 3rd place whilst home nation Portugal shared 4th place with Ireland on 25 penalties. For Great Britain it was a 28 penalty finish score to take 6th place relegating Italy to 7th and Luxembourg to 8th with scores of 34 and 45 penalties respectively.
The competition certainly saw a mixed bag of performances with the leaderboard changing almost after every round and for Great Britain it also brought mixed fortunes. Pathfinder for the team was Ben Maher with the 12 year-old British Bred chestnut mare Diva II whom he co-owns with Tatiana Korsokova. It was great to see them both out on their first team appearance for 2017 and they were unfortunate to pick up 8 penalties early on in the course. Settling into their stride as the course progressed, they looked back in full form as they jumped the remainder of the obstacles and this marked improvement continued when they opened up for the team in Round 2 with an incredible clear.
Jemma Kirk who is based in Le Pin, France with her own 13 year-old chestnut gelding Quelisto didn't have the best of first rounds having been unseated when Quelisto put a stop in at the start of the double which resulted in their elimination. This came following Quelisto appearing to have unnerved himself when he jumped into the double on a slightly wrong stride which saw him stop at the 2nd element. Their 2nd round in what was their debut on a Nations Cup team saw Quelisto moving forward much happier, however their 16 penalty finish saw them become the dropscore in each of the two rounds.
Emily Moffitt who is based in Nevada, USA with Hilfiger van de Olmenhoeve, a 10 year-old bay gelding owned by Poden Farms posted an impressive performance in the first round which saw them accrue just a 4 penalty finish when the top pole fell at the water try. Their 2nd round saw them finish on 12 penalties with just Tim Wilks from Henley-on-Thames, Oxfordshire with Quelbora Merze, a 13 year-old chestnut gelding owned by In Showjumpers left to go. Tim certainly looked oustanding in both rounds posting an clear in Round 1 followed by just 4 penalties in Round 2.
Finishing in 6th Great Britain were awarded 45 points to add to their League Table tally which saw them retain their 2nd place finish. Belgium, who led from the start of the competition picked up maximum points to continue leading the league table on 280 penalties whilst Poland sit in 3rd place on 95 points.
West European 2nd Dvision League Standing
1. Belgium (280)
2. Great Britain (195)
3. Poland (95)
4. Luxembourg (90)
5. Czech Republic (70)
6. Norway (70)
Lisbon Nations Cup Results:
1. Belgium (4)
2. Spain (21)
3. France (24)
4. Portugal (25)
Ireland (25)
6. Great Britain (28)
7. Italy (34)
8. Luxembourg (45)
The Grand Prix takes place on Sunday 28th May at 15:00 hrs local time. The Chef d'Equipe accompanying the team will be World Class Performance Manager for Showjumping, Di Lampard.
For further information on the show and full results once the show is underway, visit www.sociedadehipica.pt. Full information in respect of the FEI Nations Cup series can be found by visiting www.fei.org. FEI TV will be showing live footage from the event. To access this please visit www.feitv.org.
British Showjumping would like to thank NAF, title sponsors of the Senior Nations Cup Teams along with the Children, Junior and Young Rider teams.
NAF's premium range of Five Star brands include Superflex, Superflex Senior, PROFEET, Optimum, Magic, Oestress and Respirator Boost with quality at the heart of everything they do. They are a UFAS (Universal Feed Assurance Scheme), GMP+ (International Feed Assurance Scheme) and BETA NOPS (Naturally Occuring Prohibited Substances) accredited company and this enables them to guarantee full traceability on all the natural ingredients they utilise in their formulations, which are also selected in compliance with the FEI guidelines for Clean Sport. For further information, visit www.naf-equine.eu/uk/index.jsp.