Thursday, March 30, 2017
News
British Showjumping 'Just for Schools' Winter Championships 2017
Wednesday 29 March 2017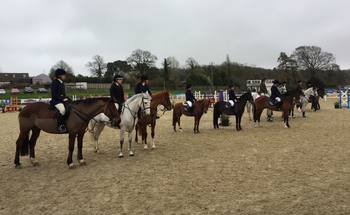 The inaugural 'Just for Schools' Winter Championships took place at Wales and West Shows in Chepstow during 18th - 19th March giving two fantastic days of showjumping for those that took part. With a whole host of classes from 'Just for Schools' League classes through to the Championship Finals it was a great opportunity for all of our 'Just for Schools' members to participate and experience the atmosphere that a championship show provides.
The highlight of the weekend had to be the Championship Finals which ran over heights 70cm – 1.10m and were open to both teams and individuals. The team podium was dominated by the Kings of Wessex School teams as they scooped four out of the five titles on offer, while the individual classes were topped by riders representing schools from different areas across the country.
Well done to everyone who competed and we look forward to seeing as many of you as possible at the 'Just for Schools' Summer Championships which are held at the British Showjumping National Championships at Stoneleigh Park in August!!
To find out more about how to qualify for the summer championships click here or to find your next 'Just for Schools' competition click here.
Results –
Saturday 18th March –
80cm Winter Final
Individual:
1st Bronwen Jones & Dewicwrt Hymenaios - 0/0– 27.24 seconds
2nd Mollie Mona Diment & Brock Bangle - 0/0 – 30.16 seconds
3rd Poppy McIntyre & Annaghmore Chaussette B – 0/0 – 34.64 seconds
Team:
Beaminster School
Mollie Mona Diment & Brock Bangle
Poppy McIntyre & Annaghmore Chaussette B
Madeline Ware-Williams & What About Smee
1.00m Winter Final
Individual:
1st Hannah Bishop & Rainbow Rineen – 0/0 – 32.83 seconds
2nd Anna Louise Merritt & Milky Way IV – 0/0 – 40.61 seconds
3rd Sam Fountain & Vince III – 0/0 – 44.04 seconds
Team:
King of Wessex Black
Sam Fountain & Heather Oak Barney
Kathryn Thomas & Zorba IV
Emily Mugford & Smoking Joe IV
Sunday 19th March –
70cm Winter Final
Individual:
1st Ronie Thomas & Bobby XIV - 0/0– 27.20 seconds
2nd Izzy Milne & Simba -0/0 – 31.47 seconds
3rd Frederick Cloke – 0/0 – 32/84 seconds
Team:
King of Wessex Gold
Izzy Milne & Simba
Abbie Jamieson & Phoenic Flyer III
Naomi Pollard & Narrowmore Matchmaker
90cm Winter Final
Individual:
1st Jessica Fox & Sledgers Guinness – 0/0 – 28.73 seconds
2nd Sam Fountain & Heather Oak Barney – 0/0 – 30.00 seconds
3rd Jodie Humphreys & Sir Murphy II – 0/0 – 32.11 seconds
Team:
Kings of Wessex Black
Sam Fountain & Heather Oak Barney
Kathryn Thomas & Zorba IV
Alice Sanderford & Galaxy II
Hattie Newton & Storm IX
1.10m Winter Final
Individual:
1st Kathryn Thomas & Zorba IV – 0/0 – 32.78 seconds
2nd Flora Castle & Geddes – 0/0 – 39.61 seconds
3rd Kathryn Thomas & Heres Johnny – 0/4 31.53 seconds
Team:
Kings of Wessex Blue
Kathryn Thomas & Heres Johnny
Sam Fountain & Vince III
Emily Mugford & Smoking Joe IV