Tuesday, April 24, 2018
GREAT BRITAIN FINISH 6TH IN ROME
Friday 25 May 2012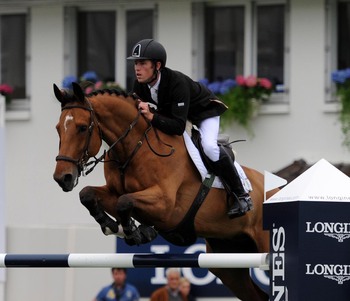 Scott Brash from Peebleshire led the way for the British Team today in the Rome FEI Top Level Nations Cup by producing one of the very few double clears of the competition. Partnering the 10-year-old bay gelding Hello Sanctos which is jointly owned by Lady Kirkham and Lady Harris, they only started competing together as a combination earlier which made their performance even more outstanding.


Will Funnell from Dorking with Julie Slade's 9-year-old chestnut gelding Billy Angelo made an unfortunate error going into an upright of three poles in the first round. This appeared to unsettle Billy Angelo, still a relatively novice horse, as they went on to incur an additional 4faults and a time fault in the first round and a subsequent 12faults in the second round.
Tina Fletcher from Oxfordshire produced a faultless round until the final fence with Lady Harris' 13-year-old chestnut gelding Hello Sailor where they incurred 4faults as a pole fell. This was replicated in the second round with exactly the same fence coming down giving them a finish of 4faults again.


Peter Charles was the anchor man for the team with Team Murkas Vindicat W, a 10-year-old bay gelding jointly owned by Olga White, Tara Charles and Team Murka. Making their debut at La Baule two week ago at this level of competition they incurred 4faults in the first round and 12faults in the second.


Finishing in joint 6th position at the end of the competition Rob Hoekstra commented "We are here in Rome with four riders all hoping to put a marker down for possible Olympic selection. It was a very testing course and we are progressing towards putting together a very strong team for the Games. With that in mid the first of the three Nations Cups, the next of which is in St Gallen are doing exactly what they are designed to do in giving riders an opportunity to show us who they are. After St. Gallen, we can review everything and fine tune our team".

Talking about the teams individual performances Rob added "Scott with Sanctos jumped two World Class rounds which is a huge positive and it is great to have Tina and Hello Sailor back at this level for the first time this year. Their result was extremely positive despite having the last fence in each round. Peter with Vindicat jumped a very good first round but Vindicat looked a little tired in the second and perhaps lacking a bit of fitness at this level. Will and Billy Angelo were unfortunate with Billy Angelo showing a little inexperience in the first round which resulted in him needing to be slightly over ridden in the second"


Germany were the overall leaders finishing with just 4faults having dominated from the start of the competition. A fence behind them were Switzerland with the same gap of 4faults between themselves and Belgium who took 3rd place.


The FEI Top Level Nations Cup series continues next week in Switzerland at St. Gallen on the 1
st
June 2012. Further information and results from the FEI 5* event in Rome can be found by visiting
www.piazzadisiena.org
. The event culminates on Sunday which also see's the Grand Prix take place.
The British Showjumping Teams are strongly supported by Exchequer and National Lottery funding via UK Sport.


Placings
1st Germany (4faults)
2nd Switzerland (8faults)
3rd Belgium (12faults)
4th Italy (16faults)
5th France (20faults)
6th Netherlands (24faults)
Great Britain (24faults)