James Billington Wins in Wellington
Monday 23 February 2009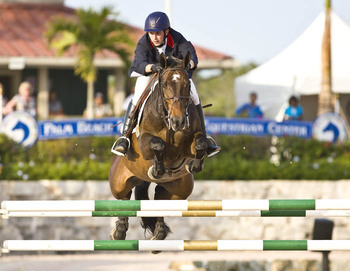 Twenty-two year old James Billington enjoyed victory in the $25,000 Fidelity Investments 1.50m Classic at the Palm Beach International Equestrian Centre, Wellington, Florida yesterday.


From a starting field of forty eight, nine clears returned for the jump off. Billington and Midnight Lady, owned by the Deeridge Farm of Aurora, N.Y. and Wellington, posted a clear round in a time of 41.849 seconds.


James moved to the U.S. a year ago to work with and learn from John and Beezie Madden, and plans to return to England at the end of The Wellington Tour to work with his father, British Olympian Geoff Billington.


James commented, "It has been a "fantastic experience" working for the Maddens, John is the best trainer on the ground and Beezie is one of the best riders in the world."


Lauren Hough and Presioso were second with a time of 42.564 secs., whilst Nick Skelton aboard Beverley Widdowson's Nemo 119 took third place. Gemma Paternoster riding her own Osiris took fifth position, with Ben Maher and Quainton Stud's Quainton Quirifino Z in sixth place.


CSI2* Wellington FL USA
$25,000 Fidelity Investments 1.50m Classic
1st James Billington GBR Midnight Lady - 0/0 41.84 secs
2nd Lauren Hough USA Presioso - 0/0 42.56 secs
3rd Nick Skelton GBR Nemo 119 - 0/0 42.57 secs
4th Michael Kearins USA Eskadeur - 0/0 45.71 secs
5th Gemma Paternoster GBR Osiris - 0/0 52.50 secs
6th Ben Maher GBR Quainton Quirifino Z- 0/4 43.02 secs
Full results can be downloaded at www.equestriansport.com