PONY OF THE YEAR SHOW 2021
Tuesday 04 May 2021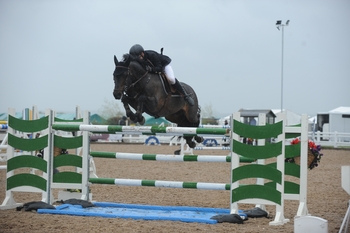 Henry Squibb is flying high in 2021 and just two weeks after landing the Charles Britton Equestrian Construction Winter Classic JA Championship with Emily Fenn's Kilcurry Dawn, the pair commanded victory in the feature POYS JA grand prix at its new Arena UK venue.
For the first time during its 20+ years and the move from the traditional Easter weekend due to Covid-19, the show was held outdoors, although it still retained its unique atmosphere and the generous prizes. But the elements of rain and wind on the final day certainly added an extra test to the competitions. The JA Grand Prix was no exception as fences were blown down by gusts of wind, but three riders battled the elements over a tough, technical track with committed and dog-leg lines to provide a thrilling jump-off.
Tabitha Kyle had three rides through, although her first Atomic Du Bary was carrying four faults from the first round under the A9 grand prix rules – a minimum of five in the jump-off. Atomic was out of contention when Tabitha followed with second ride Su and Gordon Hall's Gangnam Style II to set a sizzling target. But on-form Henry sliced into the time.
Using Kilcurry Dawn's stride to cut across the ground and taking a risky turn into the final water-tray oxer saw Essex-based 14-year-old Henry edge ahead to take the lead by 0.65 seconds. Sophie Evans and the handsome stallion Oscar Van De Beekerheide tried a similar route and brought the last fence down – it was down to Tabitha to regain her lead on last ride Orchids Vienna. She was in contention all the way but the ultra-tight line to the final oxer was a gamble to far and the front rail fell leaving Henry to claim his second title in a fortnight and the leading rider award after claiming a second and third in the qualifiers.
Henry credits it all to training with John Renwick.
"We put a whole lot of work in on the flat during lockdown and John gives me confidence and belief in myself," said Henry, who has grown up with the Westside Mirah 13-year-old stallion for the last five years. "The track was testing and there was no let-up, the fences came at you quickly but 'Chocco' is happy and hasn't had a fence down since coming out of lockdown."
Fresh from her victory in the winter 128cm second round at South View, Connie Mensley seized the Cats & Pipes 128cm grand prix with Sparkel III. Connie has competed Sharifa Al Homazi's 23- year-old Sparkel for the last 12 months but only meets her at shows. Seven of the original seventeen starters battled it out in the jump-off with Connie commanding the win by more than four seconds.
"She's got the biggest heart and always gives her best," said 11-year-old Connie, who thanked Sharifa for the opportunity to ride this mare and Jason and Katrina Moore for their help and training.
Hertfordshire-based Ruby Barrs landed her first championship win with the 138cm Grand Prix on her mother Jacqui Barrs' Rathcoona James with the fastest of one of only two double clears in the nine-pony jump-off, winning by 10 seconds.
"It's the biggest track we've jumped so I a few turns but didn't go mad and just kept him chilled," said 14-year-old Ruby, who credited Mark Kyle for his advice.
Sarah Proudley lifted the Talentseekers Grand Prix in a competitive jump-off, outpacing her 17 rivals from the 138cm section on Carl Everest's Monkey Munchkin to win by 0.16 seconds.
Naturally, with this moniker 'Munch' is – "Very cheeky at home and a speed machine in the ring, I was confident in the jump-off," said Yorkshire-based 13-year-old Sarah, who benefits from training with Robert Shields.
Charlie Atkinson – who is based in Yorkshire with trainer Guy Williams – topped the seven-horse jump-off with Concert Z to take the Children on Horses Grand Prix by 1.67 seconds.
"It was big enough, especially the oxers but he has plenty of scope," said Charlie, 15, who acquired the Candillo 3 x Kojak 10-year-old from John and Louise Whitaker in early 2020 before lockdown.
Just three from twenty-four starters reached the jump-off over a technical track in the Under 18 Grand Prix with Ava Vernon providing the only double clear to win on Dean Vernon's Jolie Fleur Van De Noordheuvel – a Cassini II x Dollar Dela Pierre 12-year-old sourced through trainer Holly Smith – to win.
"She's the yard character and loves to pinch the pom-poms off my hat but she has a heart of gold, we have a great bond and she's perfect in the ring," said Lincolnshire-based Ava, 17, who has Junior Nations Cup teams and European Championships aims.
Ryan Perrett's determined, flying round on Ruby Trevelyan Of Lyonnesse was ably rewarded with the 1.10m Grand Prix championship. Eleven of the thirty-one starters accessed the jump-off but Ryan took charge with the sharpest lines to win by 2.27 seconds on the 16-year-old French-bred mare Ruby.
Olivia Warburton excelled in a hotly contended jump-off, outpacing her twenty-eight rivals to take the St James Stable Mini Pony Championship with Carlton Guinness. Olivia claimed the win by 0.91 seconds on the 15-year-old piebald gelding she started in British novice 18 months ago.
Myrtle Steel John Hallion scored her first win with Quantico, the Irish-bred 15-year-old she has ridden for 12 months with the Prelim Grand Prix title. Twenty-six of forty starters made it a hot jump-off but Myrtle found the quickest route by a fraction to win with just 0.20 seconds to spare.
Myrtle and Quantico almost made it a double but had to settle for second in the Introductory Grand Prix. The title deservedly went to Cecile Sykes and the 14-year-old Appaloosa mare Colours Of Romeo as they topped a 25-pony decider by 1.65 seconds.
Holly Bundy found the shortest route to earn victory in the 1metre Grand Prix with Drumcrew Prince. With twenty-three tackling the jump-off from a start list of 37, it was no pushover but a determined Holly gained a 0.41 seconds advantage over her nearest rival on the Irish-bred 14-year-old Drumcrew Prince to claim her much-sought after sash.
Kate Anderson claimed the concluding 11-year-old and under Grand Prix with the quickest time of the class in the fastest jump-off of the show, beating her 17 rivals by half a sec on her 2020 Stepping Stones 138cm champion Coolcronan Thunder.
"He's chilled at home and at a show but he's fast across the ground," said Darlington-based Kate, 11, who has ridden the Irish-bred 14-year-old for 12 months.
For full results from the show visit www.poysinfo.com