His Royal Highness The Duke of Edinburgh – One Minute Silence
Wednesday 14 April 2021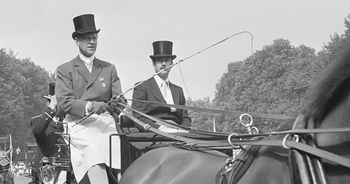 As a mark of respect we are asking all show organisers, who are running a British Showjumping event on Saturday 17 April, to observe the National one minute silence at 3pm to mark the death of His Royal Highness Prince Philip, The Duke of Edinburgh.
Prince Philip, who passed away peacefully on the morning of 9 April at Windsor Castle was the longest serving FEI President, a position he held between 1964 – 1986. He was a strong advocate of the FEI Nations Cup Series and was also extremely supportive of the concept and launch of the FEI Jumping World Cup series. Prince Philip was an enormous contributor to the equestrian community and his support and input will be missed greatly across all disciplines.
A link to British Showjumping's tribute to His Royal Highness Prince Philip, the Duke of Edinburgh can be found here . Further information regarding the National silence can be found on the UK Government website here
We would like to thank you in advance for marking the death of Prince Philip, who has given so much to the sport, in this formal and respectful way.