Social Media Boycott
Thursday 29 April 2021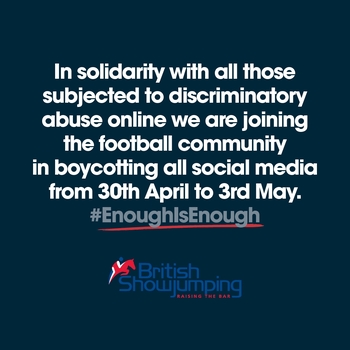 You may already be aware of the Enough Is Enough campaign which the football community, followed by other sports, are staging by participating in a social media boycott across their channels from 3pm on Friday 30th April until midnight on Monday 3rd May.
The Football community spearheaded the campaign in response to the persistent abuse, discrimination and hate being posted on these platforms. It has inspired other organisations and sporting bodies to take a stand and declare their intention to also freeze social media activity on their own channels.
Following consultation, we are pleased to confirm that Team GB, British Olympic Association, British Paralympic Association, British Equestrian Federation, British Showjumping, Sport & Recreation Alliance and the wider sporting community will also be taking part in this boycott. British Showjumping will not be posting on social media during this time as we stand alongside others in a call for an end to harassment and discrimination online. We stand united in our message that more must be done to protect all who participate, watch and follow sporting activities.
We feel it important to stand shoulder-to-shoulder with the wider sporting community to promote inclusiveness, diversity and equality. Collective action such as this will be powerful in highlighting that that we stand united in saying Enough Is Enough.