Prestige Italia Big Star Championship Qualifier at Arena UK
Monday 19 July 2021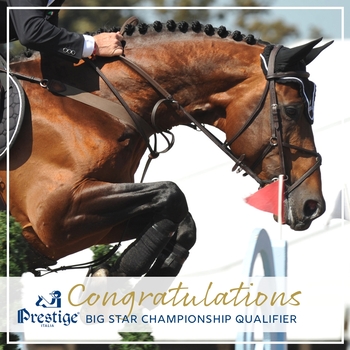 The fourth Prestige Italia Big Star Championship Qualifier of the season took place at Arena UK in Allington, Lincolnshire on Friday and it was a real showcase of talented 6 year-olds. Looking to reward consistent jumping in young horses the following fourteen combinations all shared the honours having jumped treble clears.
Arena UK – Friday 16th July 2021
Prestige Italia Big Star Championship Qualifier Results
Danielle Farnsworth & Greenacres Zanetto
Jessica Hewitt & Kayloma H&H
Andrew Saywell & Kwis
Jessica Baugh & Quality TJS
Flora Young & Dunroe Quality
Joseph Trunkfield & RSH Deal Breaker
Ronnie Jones & Key West RSH
Grace Shuddall-Hughes & For Free Z
Carron Nicol & Levito Z
Derek Morton & Darcon V & V
Megan James & Diatender TW
Georgie Strutton & Dia Centa PS
Jessica Botham & Be Kamelia
Alex Bishop & Nobelle Casscania
For the full results click here
For the list of qualified riders so far click here.
NB: Results pending official grading.
Prestige Italia:
Prestige Italia is a leading company in the manufacturing and distribution of high quality saddles. Innovation and MADE IN ITALY are the key pillars that make Prestige saddles the essence of quality, reliability and functionality. Through experienced craftsmanship and a constant desire for technological improvement, their custom saddles are designed for the well-being of both horse and rider. For more information, visit www.prestigeitaly.com.