Michael Duffy wins Grandstand Cup
Saturday 09 October 2021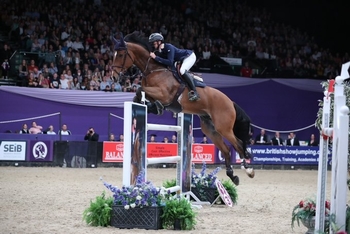 Ireland's Michael Duffy won the grandstand Cup at the horse of the year show earlier today with thrilling jump-off success.

Michael, now based in Britain but originally from Galway, was first to go in the ten rider jump-off which included two Olympians in the shape of John Whitaker and Harry Charles. Entering the arena as calmness personified he posted a stunningly quick round of 33.55 on the 12 year-old gelding Jeff Ten Halven which put the pressure on all his rivals.
It was the legendary John Whitaker that gave the closest run for the money when he broke the finish line clear just 12/100th of a second slow in 33.67 on Unick du Francport. John's nephew, William Whitaker, took 3rd with Galtur with whom he represented Great Britain at the European Championships last month. Their time of 33.94 seconds illustrated how close the competition was.

About his win and his approach to the jump-off he said "I wouldn't say a lot of thought went into it as when you have a jump-off of that quality and quantity you know it will always be fast. I am very lucky to ride a horse of this calibre. Those turns are really blind, you don't see the jump until the last second and that's the difference between a good horse and a great horse and he's great as he finds the reason to jump them. We feel privileged to be here, it's one of the most famous and historical shows in the world and I'm chuffed".
Full results
For further information on Horse of the Year Show which runs until Sunday evening or for tickets visit www.hoys.co.uk