Louise Hoyle scoops top spot in the Nupafeed Supplements Senior Discovery Second Round at Dean Valley Equestrian Centre
Monday 02 May 2022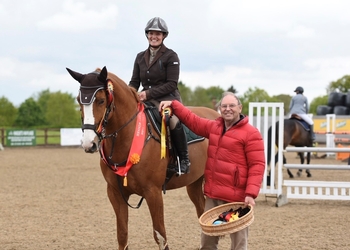 With a clear two second lead, Louise Hoyle from Catterick Garrison, North Yorkshire became the winner of the Nupafeed Supplements Senior Discovery Second Round at Dean Valley Equestrian Centre on Sunday riding her own 8 year-old chestnut mare, B Dior Papillon.
An initial starting field of sixty competitive riders came forward, with twenty one combinations delivering a double clear for a place in the final jump-off. With the pressure on, Louise kept her cool to jump around the track in 38.07 seconds to claim first place and a triple clear.
Dean Valley Equestrian Centre – Sunday 1st May 2022
Nupafeed Supplements Senior Discovery Second Round
1st Louise Hoyle & B Dior Papillon – 0/0/0 – 38.07 seconds
2nd Rebecca Bosworth & Danubio Z– 0/0/0 – 40.43 seconds
3rd Sinead Cox & Kydan Mayberry – 0/0/0 – 42.21 seconds
For the full results click here
For the list of qualified riders so far click here.
NB: Results pending official grading.
Image: KT Equine Photography - www.ktequinephotography.photodeck.com
Nupafeed Supplements:
Imported from Germany, Nupafeed supplements combine advanced scientific research with the highest quality ingredients to make their products truly unique. The Nupafeed range includes: the highly acclaimed MAH® Calmer, Flex GLM (Green Lipped Mussel) joint supplement and Staying Power to aid energy, strength and stamina. Used by top professionals, including John Whitaker and Ben Maher, Nupafeed products are permitted for competition and are available by mail order. Nupafeed aims are to ensure an unbeatable quality of product, supplied with friendly and honest advice. The team have experience assisting customers who represent all levels of horse ownership. For more information, visit www.nupafeed.co.uk.