Kayleigh Bowen wins the Senior Club 80cm & 90cm titles
Monday 03 August 2020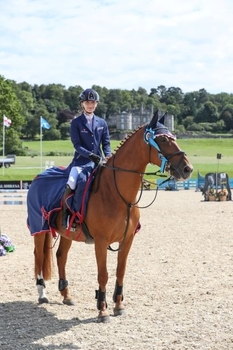 It was a double win for Kayleigh Bowen from Llanelli, Dyfed with the 13 year-old bay mare Blaencwm Bremhines at the NAF Five Star British Showjumping National Championships today.
The initial win came in the Senior Club 80cm Final. One of four to jump clear in the second round their time of 32.84 seconds saw them pull ahead of Danielle Smith from Wigston in Leicestershire with her own 11 year-old black gelding Zak VI. 3rd place went to Melanie Widdows ith Mayday XXI and 4th to Laura Goodall with Guusje.
The 90cm Final saw them also claim a victory with the fasted jump off clear. This time it was Melanie Widdows that was relegated to 2nd place ahead of Mayday XXI whilst Jane Courtney and Dominant van Slabroek took 3rd place.
For full results https://bit.ly/3khHHVw