Jodie Hall-McAteer claims the Voltaire Design Under 25 British Championship at The London International Horse Show
Monday 20 December 2021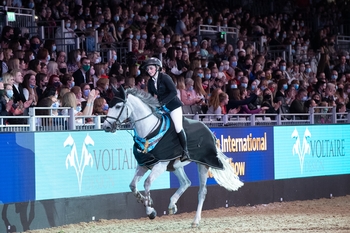 Twenty-one year old Jodie Hall-McAteer retained the Voltaire Design Under 25 British Championship title this evening at the London International Horse Show taking place at the ExCel Arena. Jodie, from Borehamwood in Hertfordshire, claimed the resounding win aboard Mademoiselle A, a nine-year-old grey mare owned by her mother Mandy Hall.
A total of ten combinations came forward to contest the Final this evening having pre-qualified earlier this morning from an initial field of twenty-three combinations. The first round this evening designed by Guilherme Jorge (BRA) saw five come forward for the jump off with Jodie being joined by Joseph Stockdale who posted the only other clear, and then the three fastest combinations who finished on 4 penalties each.
Both Jodie and Joe, aged 22 from Roade, Northampton with Joy Cocklin's 10 year-old mare Equine America Cacharel V, posted another clear each to both finish on zero penalties and see them safely secure the top two places. It was Jodie though who continued her supreme form to just clinch the win by a fraction of a second when she stopped the clock in 27.51 seconds ahead of Joe who crossed the finish line in 28.15 seconds.
Talking after the presentation Jodie said "I had the advantage as I got to watch Joe and I knew what I had to do, go that little bit faster! Joe had a really fast round himself, so I played a safe round but did just enough and it worked out"
Twenty one year-old Robert Murphy from Preston, Lancashire took third place on the ten year-old grey mare Highcross Violet owned by Elizabeth Jackson having posted a foot-perfect second round clear to only carry his previous 4 penalties forward.
Chloe Reynolds with Vanilla Fusion and Oliver Fletcher with Garande also featured in the jump off and finished fourth and fifth respectively.
For the full results from today's class, click here.
Voltaire Design:
Established in 2010 Voltaire Design has become the leading French manufacturer of high performance sports saddles. Handmade in France using the finest French leather, Voltaire Design saddles have become renowned for their innovation, comfort and the ability to fully customise each saddle to the horse and rider
Voltaire Design produce saddles for the forward thinking rider who demands style and substance, while prioritising freedom of movement for the horse, together with elegance, durability and customer service.
Voltaire Design combine comfort and performance for the horse and rider, alongside innovative design to produce saddles that enable every rider to fulfil their potential. For more information, visit www.voltairedesign.com.