Jessica Cunnington from Norfolk is September's NAF Shining Star
Thursday 21 October 2021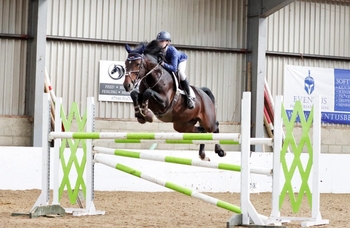 Fourteen year-old Jessica Cunnington from Swaffham, Norfolk has been awarded the NAF Shining Star for September. Always with a smiley face and ready to give the loudest cheers for the rest of her team, Jessica has been a valuable part of the Norfolk academy for several years and led lead coach Tamsin Conyers to nominate her.
"Jessica has brought on most of her ponies from novices and has done a good job with all of them. She has now got several young horses and has been bringing on her 4 year-old horses, jumping double clears and doing a good job", commented Tamsin.
"Jessica has also been helping her parents run Forest Edge Arena as they bought it earlier in the year. They have big plans and have already made big improvements to their shows. Jessica works in the collecting ring, picking up poles, and all the usual jobs it entails,"
After finding out she was the winner of September's NAF Shining Star, an excited Jessica said "I am so delighted to receive the NAF Shining Star Award, I was totally shocked when I heard as I didn't even know I had been nominated!"
Lisa Field from NAF added "It is lovely to hear that Jessica has been such a valued member of the Norfolk academy over the last couple of years and being a fantastic team-mate. This along with the help and support Jessica is providing in helping the running of shows at Forest Edge Arena makes her a worthy winner of this month's NAF Shining Star, congratulations Jessica!"
The NAF Shining Star Award was introduced when NAF became a British Showjumping Business Partner. The award is for members of a Junior Academy who have shown a great deal of commitment, progression, and outstanding behaviour along with their riding ability and much more. Riders are nominated by their lead coach, and then judged and awarded by NAF to one person each month.
NAF:
NAF is the most respected and trusted brand for supplements and applications for your horses in the UK today. Using proven ingredients and creating unique effective formulations NAF has an extensive portfolio of products designed to offer something for your horse's every need.
NAF are proud to be Official Suppliers to the British Equestrian Teams and Business Partners to British Showjumping supporting the NAF Five Star Training programme and the Shining Star Awards. Jessica Mendoza says "NAF have a great team of veterinary scientists and nutritionists, they are a big help to me and are there at the end of the phone with free advice if and when you need it, 0800 373106 or info@naf-uk.com."