December 2021 Keysoe 2* International Round Up
Thursday 16 December 2021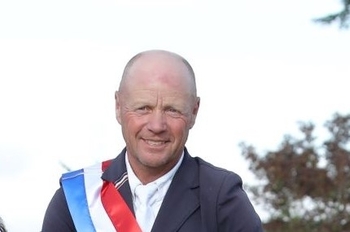 Adrian Speight saved the best until last with Judith Whitham's consistent Millfield Baloney and, after settling for second the first two days in the 1.40m and 1.45m, commandeered victory in the 2* grand prix to conclude Keysoe 2* International on a high.
Thirty-one competitors came forward to face course-designer Mark McGowan's 12-fence 1.45m track with just eight finding all the answers to return for the jump-off. Adrian had been gunning for a win all three days and shaved every conceivable corner on the Balou Du Rouet x Kanudos 15-year-old to net a handsome £8,250 winner's purse by 0.57 seconds.
British-based Donny Janciauskas riding for Lithuania netted second spot on the home-produced nine-year-old Cool Quarz.
Adrian was full of praise for Baloney following a phenomenal year with area trial and national grand prix wins plus being crowned the new National Champion after heading the International Stairway Final at the British Showjumping Championships in August.
"He even won a Puissance at Arena UK, he's so versatile and brave, he never feels like the clutch is slipping, his scope feels endless," said Adrian, as he remarked on the gelding's temperament and consistency. "He can gallop on one day and come back calmly the next and jump the grand prix. Luckily he won today; his owner Judith was here to watch on her birthday – and a good job he won because I hadn't bought her a card!"
Kerry Brennan and her mother Liane Smith's effusive 18-year-old hero Wellington M scored a hat-trick with three wins in three days. The pair kicked off the show in style with victory in the initial 38-strong 2* 1.30m two-phase with 0.36 sec to spare. They duly followed suit in the middle day's 1.35m. Eleven of the thirty-nine starters contended the jump-off with the Quidam De Ravel x Cash gelding displaying a quick turn of foot to scoop another win by 1.60 seconds.
The evergreen 'Wellie' showed no signs of slowing down on the final day and looking as fresh as he did on day one. With ears pricked and continually looking for the next fence, he excelled to secure his third win for Kerry in the 39-horse 1.35m speed with 0.76 seconds in hand to push known speedsters Louise Saywell into second on Sharp Image and Mark Edwards aboard Flying Tinker II and Ede Peasy in third and fourth.
Kerry is savouring every round and every show with the almost 19-year-old Wellie and she opted to drop down a level at this show.
"I dropped him down to have a bit of fun, no pressure, and it showed as he was so fast, he won every day and he loved it! I only lean slightly to the left or right and he's like lightning and turning – I have to hang on. He knows where his feet are all the time and he looks after himself," said Kerry.
Mark was on form throughout and notched up four wins. His home-bred top ride Montreuxs Tale came to the fore in the initial 1.40m. Eleven of the original forty competitors provided first round clears to qualify for the jump-off but no-one was quicker than Mark on the rangy but agile Tinkers Tale 11-year-old gelding to secure the win by 1.60 seconds and pushing Adrian and Millfield Baloney into second.
Mark claimed all three 6-year-old classes with his home-bred Montreuxs Tale daughter Royale Tale winning the first two. Fifteen contended day one's 1.20m two-phase with Royale Tale winning by 0.59 seconds and Mark also taking third on second ride Dillinger NE. Mark and Royale Tale outpaced their thirteen rivals by 1.10 seconds in day two's 1.25m speed class.
By day three Mark was unbeatable, taking the top two places in the six-year-old grand prix. Seven of the initial fifteen competitors returned for the jump-off with Mark winning on Dillinger NE and slotting Royale Tale into second, 1.06 seconds separating the two.
Joe Whitaker scored a victory double, taking day two's 1.45m in style on Icaterina and topping a 5-year-old aboard Lyleine.
Twenty-seven contended the 1.45m speed with Joe outpacing them all to speed into the top spot on his father Steven Whitaker's Durango VDL x Otangelo 8-year-old mare with almost four seconds in hand, Adrian and Millfield Baloney again taking second.
Joe headed day two's 5-year-old 1.15m speed on Lyleine, the Farfan M x UB40 mare forging ahead to beat her twenty-two rivals by 2.25 seconds. John Crippen had to settle for second here on Bennys Kelly but claimed two of the top three places in the 5-year-old final.
It was John's second show back after suffering from concussion following a nasty fall a month ago but he was soon back in form. The twenty-one starters were reduced to eleven competitors for the jump-off with John and Tim and Emma Peake's Kelly (Tullibards Bennys Legacy x Harlequin Du Carel) improving each day. Third on day one and second on day two, the pair hit the jackpot on the final day claiming a 2.32 seconds advantage to win in style. John also steered Lannan HK into third, sandwiching Monday's 5-year-old winner Lorraine Lock on Billy Gobi into second.
Keira Stoute not only made her first show with Disckoboy DN a winning one but conjured up a double victory at her home base Keysoe International. Keira was pitted against twenty-two rivals in the 1.10m two-phase but confidently jumped to the top on the Douglas x Silverstone 13-year-old Disckoboy – the former mount of Olli Fletcher – by 0.12 seconds. The new partnership built on their win to again prove the quickest twenty-four hours later. The twenty-six competitors were halved to thirteen for the 1.15m jump-off, Keira winning on Disckoboy by 1.16 seconds and finished third with Avalon Sunset B. Vicky Lovegrove was sandwiched into second place on the six-year-old Canaletto Z x Omar mare Chuppa Chup Z – winner of the final day's concluding 1.15m.
Arianna Kuligowski scored seven wins in the sun on the Vilamoura Atlantic tour in October and November with the consistent Avascalle and the 8-year-old Baltic VDL daughter proved just as versatile in the confines of an indoor arena. Fifteen of the twenty-eight starters in the first of the 1.25m classes contended the jump-off with Arianna winning by 1.98 seconds.
Morgan Henderson topped the final day's 31-strong 1.25m speed on the 11-year-old Luidam daughter SSH Leagh with 3.50 seconds to spare over Lance Whitehouse's Zandor 10-year-old Little Lady Van't Eigenlo – winner of the initial 32-horse 1.20m two-phase.