Tim Stockdale (12th August 1964 – 14th November 2018 )
Wednesday 14 November 2018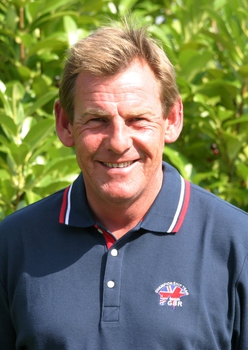 It is with great sorrow that British Showjumping share the sad news of the passing of former British Showjumping Olympian Tim Stockdale at the age of 54 years from Roade in Northamptonshire. Tim's death comes after a short battle with cancer having been diagnosed early October.
Tim, who was the highest placed Brit riding Corlato at the Beijing Olympic Games in 2008, represented Great Britain on more than fifty Nations Cup teams as well as the World Equestrian Games in 2002 and the European Championships in 2009. His wins both nationally and internationally were immense with one of the most meaningful to him being when he won the King George V Gold Cup at the Royal International Horse Show in 2010 with Kalico Bay, owned by long term supporters and family friends Ann & Colin Garratt.
Born in Nottingham, Tim started riding at the age of seven at his local Pony Club. On leaving school he went to work for former Olympian Mike Saywell in Retford before moving to become a second-jockey to Graham Fletcher, also a former Olympian.
Setting up on his own in 1990 Tim continued to have considerable success over the next decade with a string of horses which included Supermarket, The Frog, Mighty McGuigan, Parcival and Glenwood Springs to name just a few. Following the retirement of Corlato and Kalico Bay with whom Tim consistently delivered Nations Cup clears, Tim then took over the ride on Fleur de L'aube with whom he made four team appearances, one of which was on the winning 5* Team in Gijon in 2016. Since then Tim has been enjoying success on the international stage with his two key rides Miss Fritz and Tornado des Monts. His most recent win was with Miss Fritz in the CSI3* show in Macon Chaintre, France before heading to Moorsele in Belgium where he gained placings with both horses.
A former British Showjumping Board Director and Chairman of the Marketing and Commercial Committee, Tim was also a long standing member of the International & Performance Committees, an Ambassador for the British Showjumping National Championships and also a long standing committee member for Olympia Horse Show for show organisers Horsepower.
Under Tim's guidance, during his time on the British Showjumping Board, the sport saw a drive for a national county show series to support the international programme created and delivered. This series still stands today as the stepping stone into international competition in the form of the International Stairway which culminates at the National Championships where Tim took the role of Show Ambassador. The International Stairway continued to evolve with Tim's input to where it now drives International Wild Cards to Horse of the Year Show and also stands to identify the sports National Champion.
An innovator within the sport in terms of how it should be modernised and portrayed within the media, Tim brought showjumping to an entirely new audience with his involvement and significant appearances in the Channel Four documentary Cutting Edge and reality show Faking it as well as his role in the BBC Sports Relief series Only Fools on Horses where he trained celebrities to jump in just one month. An accomplished presenter, Tim was a highly popular 'face' for the sport where he had a unique style of being able to explain it for the first time viewer in addition to giving an informed and expert critique for those who were knowledgeable.
Tim's understanding and vision of how the sport needed to change from both a media and commercial perspective saw him drive a number of new initiatives forward in his role of Board Director. These initiatives have allowed the sport to develop an intrinsically connected commercial offering that is unrivalled across the other equestrian disciplines; a position it would unlikely find itself in if it wasn't for Tim's vision and commitment for change.
Known for his strength of character and direct way of speaking, Tim's biography entitled There's No Such Word as Can't, which was published in 2012, couldn't have been more apt as it was the way that he approached everything in life. None more so than when he broke his neck in October 2011 following a fall from a horse he was trying out in Wales. Having come to terms with the shock of what had happened and laying in his bed in Oswestry it didn't take him long before he started planning his campaign to ride on teams again and started an exercise regime from his hospital bed whenever he thought he could get away with it without the care team noticing! His commitment to getting fit paid off as he was back on team duty some nine months later when he made his return for Great Britain in Rotterdam on Kalico Bay. His biography followed a series of training video's which were exceptionally popular as were his lecture-demonstrations which saw him tour the length and breadth of the country.
Les Harris, Chairman for British Showjumping and personal friend of Tim's who rode under the Fresh Direct banner for Les for many years commented "Both my wife Fay and I have lost someone who was not only a friend but who had also very much become a member of our family. Tim was an incredible man and there would be very few who could hold a light to him. My thoughts are now with his wife Laura and their sons Joseph and Mark whom we will be doing our utmost to support following their loss".
Maria Haig, Head of Communications for British Showjumping furthered "Tim was both visionary and exceptionally astute. I feel extremely fortunate to have worked for him during his time on the Board and I valued his opinion hugely to the point that he was still very much the person I would turn to for sport specific or media advice. The respect I had for Tim was unsurpassed and words can't convey the sadness I feel for Laura, Joseph and Mark during this impossible time".
Iain Graham, Chief Executive for British Showjumping added "Tim's passing will leave a huge hole in the sport. His support across so many different areas was both innovative and informed. He gave an incredible amount of time to the sport to help for the greater good and he was someone I had high regard and admiration for. I speak not only on behalf of myself, but all at British Showjumping, when I express our sadness at his death and convey our condolences to Laura and their family.
A dedicated family man, Tim leaves behind his wife Laura and their two sons Joseph and Mark who both look set to enjoy promising careers within their chosen field of sport. Tim was incredibly proud that both his sons excelled in sport and he took great pleasure watching their competitive careers flourish to where they both now compete on the international stage; Joseph in Showjumping and Mark in Golf.
British Showjumping extend their sincerest condolences and respects to Laura, Joseph, Mark and their close family during this difficult time.
A private funeral for family and close friends is to be held in Northamptonshire. A memorial event to celebrate his life and achievements will take place at a later date.