Lily Freeman-Attwood claims the CSI 3* Vilamoura Grand Prix
Sunday 21 February 2021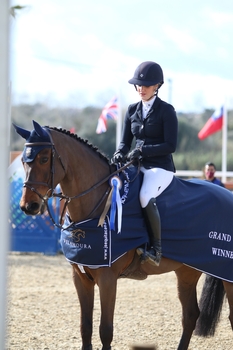 It was a British win this afternoon in Portugal's CSI 3* Vilamoura Atlantic Tour Grand Prix when 19 year-old Lily Freeman-Attwood from Buckinghamshire took the victory aboard Cor-Leon vd Vlierbeek Z.
It was only seven combinations that jumped clear in the first round from a field of forty-six starters, with two of them being Brits in the form of Lily and fellow rider Stephen Lohoar from Fife. For Lily and the 11 year-old bay gelding Cor-Leon vd Vlierbeek Z it was an impressive win when they stopped the clock clear in a time of 36.44 seconds ahead of Jose Thiry (BEL) who had to be satisfied with 2nd place having finished just over a second slower in 37.49 seconds.
Stephen Lohoar and Delius F, a 13 year-old gelding, finished in 3rd having posted the only other double clear of the competition. Their time of 40.44 seconds saw them deliver two solid rounds, albeit it in not as fast paced form as Lily's.
Talking after the presentation an elated Lily said "Leon felt incredible today. He had last week off so he was feeling fresh and well for todays Grand Prix. I thought the course was very clever, not so big but very technical with a lot of hard lines and jumps coming off corners. I knew there was some very good people to follow me in the jump off and I just needed to jump a fast clear to put the pressure on the last few to go. Overall, I'm very happy with Leon's performance today!"
Di Lampard, World Class Performance Manager for Showjumping commented "It's really encouraging to see Lily winning an early in the year 3* Grand Prix in the way that she did and also to see other Brits in the placings".
Image Lily Freeman Attwoord & Cor-Leon vd Vlierbeez Z
copyright: Carolina Fontes.
RESULTS
1 Lily Freeman-Attwood (GBR) / Cor-Leon vd Vlierbeez Z (0/0/36.44)
2 Jose Thiry (BEL) / Jalisco W van de Wolvenhoek (0/0/37.49)
3 Stephen Lohoar (GBR) / Delius F (0/0/40.44)
4 Romain Dreyfus (FRA) / Fernando van het Posthuis (0/4/35.04)
5 Frinja Bornmann (GER) / Clippo 3 (0/4/35.49)
6 Luciana Diniz (POR) / Vertigo du Desert (0/4/35.54)
7 Urh Bauman (SLO) / Larisal (0/12/34.54)
8 John Whitaker (GBR) / Unick du Francport (1/76.19)