Chard Equestrian CSI2* Round Up
Tuesday 04 May 2021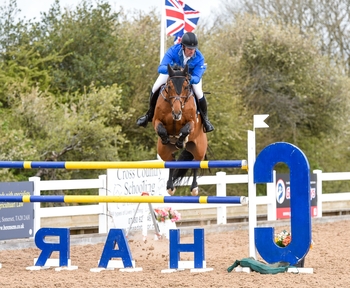 Irish eyes were smiling on the final day at the inaugural Chard Equestrian International meeting as British-based Irishmen filled two of the top three places in the feature Grand Prix, Eoin Gallagher recording his first International grand prix win by a fraction on Oakingham Stud's Faltic HB.
Unfortunately, it couldn't be said about the weather smiling as this Somerset venue was hit by high winds depressingly blowing fences over and after jumping the grand prix and age classes on the final day, the rest of the day was sadly abandoned.
"The organisers made a great effort to pull together a great show in a short space of time. The weather is beyond anyone's control and the first four days were lovely. This venue deserves success and I hope it gets bigger and better," said Eoin – "I'd certainly come back."
Twenty riders from the original start list of fifty-three qualified for the jump-off with first round clears over course-designer Paul Connor's 1.45m track and it was all about the clock as ten provided double clears. Eoin found the shortest route on the 11-year-old Baltic VDL x Concorde stallion edging ahead to sneak the win by only 0.08 seconds.
William Whitaker and the talented 11-year-old Galtur (Cornet's Stern x Balou Du Rouet) finished second with Hickstead-based Irishman Shane Breen in third on the Zambesi x Germus R 10-year-old Gait L – winner of the first day's 1.40m by 1.76 sec in a 25-strong jump-off.
"I was third to go and followed Shane in – he was fast and I didn't think I'd catch him, I was shocked when I did," said Eoin, who had to endure an agonising, nail-biting wait – "William's round was hard to watch, he came so close."
Faltic HB is one of Oakingham Stud's breeding stallions and has been on form of late with a second place on Saturday here and a win at Keysoe a couple of weeks earlier.
"He's very easy to deal with a great brain, very intelligent and just loves to jump," added Eoin.
Georgia Tame – who is based with Shane at Hickstead – was quick out of the starting gates on day three as she conjured up a victory double. She got the day off to a super start with victory in the big tour 1.40m speed on Old Lodge's feisty but ultra-careful and quick Sanvaro 13-year-old mare Quintella. Thirty-four contended this speed track with Georgia using her late draw to claim the win by 1.43 seconds from long-time leader Sian Edwards aboard Adriarna.
Georgia's second win came late in the day with the medium tour 1.35m on Can Ya Makan. The 58 starters were reduced to seventeen for the jump-off, Georgia and the 16-year-old Canturo stallion son making short work of round two to win with 1.17 seconds in hand.
Second on day one with Montreuxs Tale – winner of the Weston Lawns grand prix just four days earlier – Mark Edwards upped the pace a little on day two to capture the big tour 1.40m. Twenty-three of the initial 58 competitors returned for the jump-off with Mark and his home-bred Tinkers Tale year-old easing ahead to win by 0.48 seconds.
James Whitaker hit early form, scoring a victory double in the medium tour with Catherine and Merna Merrett's Lammy Beach. The pair headed off the challenges of 55 competitors to take day one's 1.35m two-phase with 1.27 seconds to spare. And the Beach Ball x Coevers Diamond Boy 13-year-old went on to take the 61-strong 1.35m speed by 0.59 seconds for James 24 hours later.
Keith Shore topped the first day's small tour 1.30m with Aragon Des Dames Z, a Belgian-bred 10-year-old by Arko III and out of a Nabab De Reve mare he has competed for just one month. Seventy-two riders came forward in this two-phase class but none were a match for Keith and he shot ahead to score a 0.49 seconds victory.
Young rider Jake Myers outran his older counterparts to claim the small tour 1.30m Accumulator with a flying round on the British-bred 9-year-old Calcourt Qualvados (Westpoint Quickfire x Calvados). Forty-one riders chased glory in this class but Jake was smooth and quick to claim victory by a handsome 1.99 seconds.
Jay Halim had to settle for second here on Stakkatos Boy but upped his pace in the gold and silver tours to realise a double of wins. He commandeered the gold 1.25m Accumulator with 10-year-old former eventer Ghost Buster Fortuna HH – a new ride of one month – by 0.70 seconds and the silver 1.20m Accumulator on the Billy Congo 11-year-old Billy Cointreau with 0.62 seconds to spare.
Ben Clark secured the top spot in day three's small tour 1.30m on Carter Rouge. Fourteen of the 43 starters survived round one to qualify for the jump-off with Ben and the French-bred 9-year-old easing ahead to take a 0.64 seconds win.
Abby Baker was on cloud nine at this meeting after claiming a hat-trick of wins in the first three days. She partnered the 15-year-old Calvaro FCS x Cavalier Royale mare Calista III every day in the amateur 1.10m classes and won every one, taking day one's two-phase by 0.29 seconds, winning day two's speed with 0.82 seconds to spare and topped the third day's Accumulator with 1.11 seconds in hand.
Alex Bishop triumphed in the 5-year-old Grand Prix on Larson VDL (Dallas VDL X Canturo) with 1.61 seconds to spare in five-horse decider.
Chloe Reynolds consistent clears every day with the German-bred mare Uptons Tribon (Cassini x Quidam De Ravel) in the age classes paid handsomely as they clinched victory in the 6-year-old Grand Prix by 0.28 seconds in 12-horse jump-off.
Full FEI results can be found here: https://www.mizoneventservices.com/chard-csi-2021