British Showjumping National Championships – Thursday Roundup
Thursday 04 August 2022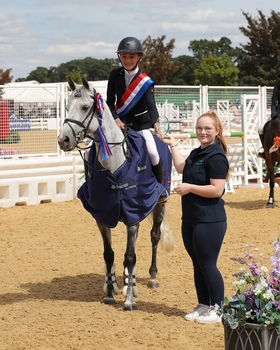 The first championship class of the day in Bucas Championship Arena 1 was the National 128cm Championship Final. Congratulations were in order for Ella Kay and the 19-year-old Red Alert III on winning the title. "I've had her for about a year now. She's very sharp when she goes into the ring, she can get a bit out of control" she said. North Yorkshire based Ella has had a successful season so far recently competing at the Scottish Home Pony and qualifying for Horse of The Year Show.

Thalia Nuttall riding Ballycarrow Mirahs Sparrow, based in Lincolnshire had an amazing round in the Pony Foxhunter Masters in UNIBED Championship Arena 2. Ballycarrow Mirahs Sparrow, known as Sky at home is recently new to British Showjumping and has already qualified for the Newcomers and Foxhunter. "She helped me out a lot, she's a very honest pony and I think it went quite well, I was biting my nails a bit! She's been on form this season, we gelled quickly and clicked straight away. Sky has tried her hardest this season and I couldn't have asked any more of her." Thalia continued: "It's all about prepping for HOYS now, so I've got my fingers crossed for a good show there. It'll be her first year ever going as well."

Ella Koscinska who is on a winning streak took her second win of the week in the Pony Restricted 1.10m Championship Final with Ganty Wills Girl, known as Lily at home. Commenting on her ride, Ella said: "I'll be honest, a couple months back I used to get nervous going into the arena, but this pony has changed everything. I trust her with my life, she always does incredibly well. I love her so much; she succeeds at everything she does. I'd just come from the Fox Masters where we just missed out on qualifying for HOYS. So, I was determined to win this class and leave it on a good note - I was quite confident going in."

Taking her second win of the day was Katie Bradburne who secured the title of the National 138cm Champion with Dolly Du Carel, known at home as "Birdie", in UNIBED Championship Arena 2. "I know I was a bit slow at fences 1, 2, and 3, and had to get a bit of a move on. My season has been great so far, we've won 3 HOYS qualifiers recently, and she's been jumping really well!"

Another rider on a winning streak is Aimee Paxton. Having won the Blue Chip Pony Newcomers Masters yesterday (3rd August), she went on to win the Pony Discovery Championship with Cassi De L'Abdenaie in Bucas Championship Arena 1. "He was the first to go, and he was the only 138 pony in the jump-off, and there weren't many riders, so I knew if I went in and did the best jump-off possible, then we would have a good chance of getting a top three place. He couldn't have helped me out anymore. He was just amazing!" When asked about her recent success, she said, "I try and keep focused, I always spend time with my ponies, and they trust me. This year, Cassi has really stepped up and he's really made my last year on 138's the best."

The final class of the day in UNIBED Championship Arena 2 saw Drew Walton and Solid Gold HS Z win the highly coveted National 5-Year-Old Championship title. Solid Gold HS Z has been in Drew's words: "knocking on the door for every single 5-year-old class for quite a while. He's been mega, and I'm really pleased with him. I knew it was his jump-off. The turns were his sort of turns. He's not the biggest horse in the class, but he's got a massive stride and loads of scope."

For the full result list from Thursday 4 th August please click here.

Come along to support
Competitors and spectators alike are guaranteed a fabulous day out with exciting competition, outdoor performances, hospitality, and a retail shopping village.
Entry for spectators wishing to take advantage of this fantastic show is free. Find out more on https://bsnationalchampionships.co.uk/
Watch live
The show will be available to watch on livestream if you are not able to make it in person, visit http://www.britishequestriansport.tv/, powered by ClipMyHorse.TV
British Showjumping Just For Schools, Club and Academy Championships
These Championships will be running directly after the British Showjumping National Championships next week (7th- 10h August). Visit our Championship hub page to view lots of useful information.

Image credit: Katie Bradburne and Dolly Du Carel, winners of Class 41, National 138cm Championship Final (C) 1st Class Images.