Zlatan Z takes the Winter 6 Year-Old Title
Thursday 06 August 2020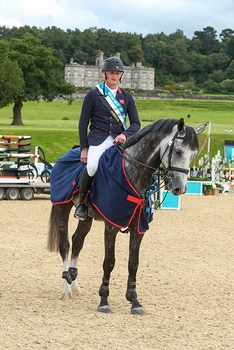 The national age classes always attract quality horses being produced with their future careers in mind and the Prestige Italia sponsored National Winter 6 year-old Final this afternoon at the NAF Five Star British Showjumping Championships at Bolesworth was no exception.
The 1.20m course saw some really nice horses come forward with the seven that jumped clear in the first round showcasing their consistency by producing another clear in the jump-off. It was the eye-catching iron grey Zlatan Z, a scopey big jumping 6 year-old gelding bred by Claudia Kroon and owned by Brian Squire, that took the win with their time of 38.10 seconds under the expert guidance of Derek Morton from Stone in Staffordshire.
It was Emma-Jo Slater from High Wycombe with Kim Barzilay's homebred gelding Kimba Castello who took 2nd place with a time just a fraction of a second slow of 38.54 seconds. 3rd place went to Jonathan Egmore with Passilano (Cassilano x Lorentin) owned by Nicola Withey.
The NAF Five Star British Showjumping Championships take place between the 3 – 11 August 2020 and further information on the show can be found here https://bit.ly/3a4cy2Q and results from all classes here https://bit.ly/2Xzma0M