Tri-Zone Airlite Continue British Showjumping Senior Discovery Championship Series Title Sponsorship
Monday 03 December 2012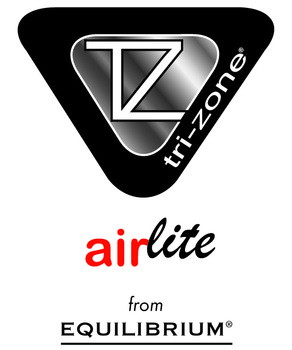 British Showjumping is pleased to announce that Tri-Zone Airlite, designed and developed by Equilibrium Products, will be continuing their sponsorship of the British Showjumping Senior Discovery Championship Series into 2013. The Tri-Zone Airlite Senior Discovery Championship will once again be held at the Plevin British Showjumping Scope Festival at Stafford County Showground (Sunday 25th August - Saturday 31st August 2013).

This sponsorship marks Tri-Zone Airlite's second year of involvement with the British Showjumping Senior Discovery Championship Series and in addition to their sponsorship, Tri-Zone Airlite also kindly supported the Championship with products for prizes. This year's winners, Kerry Brennan and Vermillion II received a set of Tri-Zone Airlite Tendon and Fetlock Boots, a Tri-Zone Airlite saddlecloth and a winner's rug. Prizes were also awarded to the combinations that finished in 2nd – 10th place.

The Tri-Zone Airlite Senior Discovery Championship Series is for registered horses which have not won a total of £175 and are ridden by Adult, Associate or Pony Associate members. The 2012 Championship Series proved to be very popular and over 100 combinations qualified for the Championship Final.

Laura Cutter, Marketing Manager at Equilibrium Products commented, "At Equilibrium we are fully committed to supporting the equestrian industry and British Showjumping. The Senior Discovery Series fits our Tri-Zone Airlite brand perfectly and it provides us with the perfect opportunity to support aspiring amateur owners and riders. The series is the ideal platform for us to promote leg health awareness via the Tri-Zone Airlite boot range."

Maria Clayton, British Showjumping Head of Communications, said "We are thrilled to be announcing Equilibrium Products' continued support of the series via their Tri-Zone Airlite range. We would like to take this opportunity to thank them for both their enthusiasm and commitment to the series."

Competitors have up until the 30th April 2013 to qualify for the Tri-Zone Airlite Regional Finals Championships and following on from last year's well fought and exciting competition, 2013 promises to be another good year.

Tri-Zone Airlite:
Tri-Zone Airlite Boots have been designed and developed by EQUILIBRIUM Products, a company dedicated to making products that are of the highest quality, giving you the confidence that your horse is protected and can perform to the best of his ability.

Tri-Zone Airlite Boots, are a highly innovative new range of boots that completely challenges the traditional rigid boot design by providing high protection whilst maintaining lightness, flexibility and breathability.

Unlike other showjumping boots, Tri-Zone Airlite Tendon and Fetlock boots use a triple layer system to provide excellent protection without any impediment or restriction offering an extremely comfortable and lightweight boot. The Tri-Zone Airlite range has been tested in an independent safety laboratory for its ability to reduce concussion and resist penetration using the same test as body protectors and police armour.