Third place for Team NAF in the Nations Cup at the World Equestrian Festival at CHIO Aachen
Thursday 30 June 2022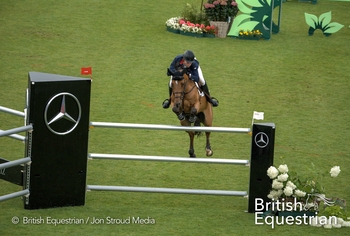 The Nations Cup at World Equestrian Festival CHIO Aachen took place this afternoon as eight Nations coming forward to contest the 13 fence, 1.50m course. With an eventual total of 8 faults, the team, riding under the team sponsor Team NAF, finished in third place.
Ben Maher, from Bishop Stortford in Hertfordshire, got the team off to a great start with the 12-year-old bay stallion Faltic HB owned by Oakingham Stud. Setting out as pathfinder, they posted a great clear in the first round. With the middle part of the combination falling in the second round, they finished the second round on 4 faults.
Harry Charles, from Alton in Hampshire, was second to jump with the 13-year-old bay stallion Romeo 88 owned by Ann Thompson. This combination certainly showcased their talent, jumping impressive clears under significant pressure in both the first and second round, one of only five double clears in the whole competition.
Scott Brash, from Horsham in West Sussex, kept his cool with the 13-year-old bay gelding Hello Jefferson, owned by Lady Kirkham and Lady Harris. A lowered pole in the last part of the combination left them on 4 faults in the first round but they came back to jump a foot-perfect clear in the second round.
Anchor rider John Whitaker, from Huddersfield in West Yorkshire, with his own and wife Clare Whitaker's 14-year-old bay gelding Equine America Unick Du Francport, were last to go. Their first round saw just one unfortunate pole lowered for 4 faults. A foot in the water, a lowered pole and 1 time fault resulted in 8 faults in the second round resulted in 9 faults.
The home team Germany finished the second round on a score of 5 faults to take the victory. Second place went to Belgium who finished on 8 faults, matching the score of Great Britain, but on faster combined time across the two rounds.
Full results can be found here.
Image: British Equestrian / Jon Stroud Media