Tatiane Mauree & Horseabout Zibu head the National 148cm Championship
Thursday 06 August 2020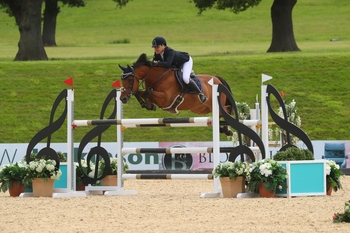 Fifteen year-old Tatiane Mauree from Newbury, Berkshire delivered the only double clear in the National 148cm Championship sponsored by E-Vet Drug Ltd at the NAF Five Star British Showjumping National Championships at Bolesworth and in doing so, she took the Championship title on Horseabout Zibu, a 10 year-old bay mare owned by Arlina Mauree.
The Championship was also a British Pony Team Viewing Trial and in keeping with this, a strong course was built and just three combinations were able to find the answers needed to access the jump off. Tabitha Kyle was first to go in the jump off on Orchids Vienna and she set a quick pace, completing the course in 38.96 seconds but with just a single pole down for four faults. This result would eventually give them second place.
Tatiane was then next to go and she knew that a clear in a quick time would put her in contention for the top spot. Between her and Horseabout Zibu, they duly delivered the performance they wanted when they returned home with a double clear in 40.06 seconds.
Last in was Claudia Moore on Elando van de Roshoeve and she also picked up four unfortunate faults in 43.10 seconds to finish third.
A delighted Tatiane said "Today's course was the strongest that I've ridden for a while and it was definitely a Championship course that was really well built. It was technical and up to height but I have a lot of confidence in my pony (Horseabout Zibu) and I trust her a lot, so I knew we'd be fine. Fence four in the first round, which was a black and white oxer on a dog leg, was quite tight but once we were over that, the rest of the course just flowed for us.
"Ahead of the jump off, I knew that Claudia and Tabitha would both be quick, so I set out to ride a careful but speedy round. It was such a fun class and a great run out before the Nations Cup show in Wierden next week. There's been such a great atmosphere at the show too."
The NAF Five Star British Showjumping Championships run between 3 – 11 August at Bolesworth and further information on the show and full results can be found by visiting https://bit.ly/3kkm2fp.
Image courtesy of 1st Class Images.