Royal Windsor Horse Show 2022
Thursday 12 May 2022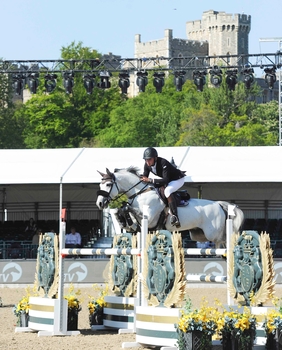 Timetable
Royal Windsor is proud to host some of the highest level Show Jumping in the UK, with 5* jumping on three days of the Show culminating in the prestigious Rolex Grand Prix on the Sunday. Alongside top-level jumping taking place in the Castle Arena, the show also hosts young rider and National classes, making Windsor the place to see the best in jumping talent – both International and up-and-coming. For 2022, the Puissance (high jump) will be making a return on the Thursday.
The full timetable can be found here - https://bit.ly/3ytr2ru
Where to watch
If you can't make it to the 2022 Show you can watch the events in the main arena (Castle Arena) on britishequestriansport.tv, Windsor TV or clipmyhorse.tv. The live stream is available free of charge below or you can watch full screen by subscribing to clipmyhorse.tv. Here you will also be able to catch up at a later date on the ClipMyHorse premium package where it will be held in the archive for viewing at any time.
In addition to the live stream, you are also able to watch highlights of The Rolex Grand Prix on SKY Sports and Horse & Country TV. Please check their online schedules for up to date information about viewing times.
To honour Her Majesty The Queen's remarkable service to the country for the last 70 years, Royal Windsor Horse Show (12–15 May) will host an evening theatrical arena spectacular, aptly named 'A Gallop through History', reflecting Her Majesty's love of horses. Dame Helen Mirren, Damian Lewis, Omid Djalili and Tom Cruise lead an all-star cast of British and international talent for Sunday's (15th May) performance which will be broadcast live by ITV.
Keep up to date
Follow The Royal Windsor Horse Show Social Media channels to keep up to date with everything happening at the event –
Facebook – @RoyalWindsorHorseShow
Instagram – @royalwindsorhorseshow
Tickets
Royal Windsor Horse Show is the UK's largest outdoor premier horse Show and takes place in the private grounds of Windsor Castle in May. In a typical year the Show hosts 4* and 3* International Show Jumping as well as 4* International Dressage and 4* International Carriage Driving. There are also national classes in Show jumping, and Windsor is one of the UK's premier Showing events. A General Entry ticket allows you access to the whole showground including its five arenas and the extensive shopping village.
Tickets are available to purchase here - https://bit.ly/3w7W3jh