Righteous is the National 7 year-old Champion
Saturday 08 August 2020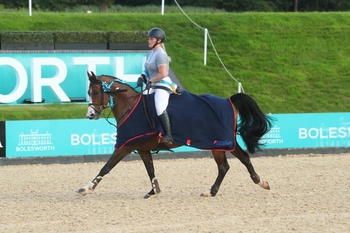 A foot-perfect double clear in a time of 36.64 seconds saw Angel Tough lift the National 7 year-old Title, sponsored by Al Shira'aa with Righteous at the NAF Five Star British Showjumping Championships taking place at Bolesworth.
Righteous, homebred and owned by Angel's father Emerson, is a 7 year-old gelding (Luidam x Hors la Loi II) whom Angel has produced slowly through the age classes. One of only six that achieved a double clear in the class from a field of forty-six starters, their blazing round saw them stop the clock with more than a second in hand to claim the title ahead of Tony Pearson with Robert Whitaker's 7 year-old gelding Wyoming 19. Third place went to William Funnell with Billy Bud.
17 year-old Angel from Urmston, Manchester who won Team Gold at the Children on Horses European Championships in 2017 rode a superb round to give herself a clear lead and to achieve it on a homebred made it all the more special which she explains by saying "He absolutely lit up in the arena and he rides like an experienced horse in a 7 year-old body. He's just so careful and delivers everything you ask of him which is why I trusted him when I asked him to take a stride out down the long line.
"He's just a star he really is and it makes it so special as we bred him at home and I'm the only person that has ever jumped him. He just went brilliantly, I'm so happy."
The NAF Five Star British Showjumping Championships take place between the 3 – 11 August 2020 and further information on the show can be found here https://bit.ly/3a4cy2Q and results from all classes here https://bit.ly/2Xzma0M
Image courtesy of 1st Class Images.