Olympic Gold medallists Nick Skelton CBE & Big Star to retire at Royal Windsor Horse Show
Wednesday 05 April 2017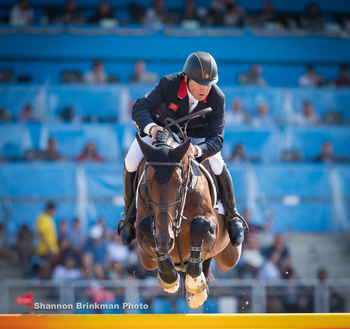 Royal Windsor Horse Show (10th – 14th May), will see Nick Skelton and Big Star formally retire in the Castle Arena on Sunday 14th May.
Announcing their retirement Nick, who won Team Gold at London 2012 and Individual Gold at Rio 2016 with Big Star owned by Gary & Beverley Widdowson commented "It has come to a point, after months of thought and consideration, that myself and my partner Big Star have decided to retire from competition.
"Although there are many people, including my family, Gary and Beverley and my team that were looking forward to us carrying on this year, we feel that Big Star has done everything that a rider could ask and it is time for him to relax and enjoy his stallion duties.
"As for myself, I have always stated that when Big Star was finished I would be as well. This sport has given me more than I could have ever hoped over the past 43 years and it is such a difficult decision to make, but I'm not getting any younger and it is nice for the two of us to end on the highest note possible.
"Thank you to all of the incredible friends and fans for your support, we are truly appreciative and humbled. Thank you to all of my owners and sponsors throughout my career, I couldn't have done it without you. And lastly, thank you to all of the horses I've ridden, you have provided me with opportunities one could never have imagined"
The retirement will take place during the afternoon of Sunday 14th May and further detail will be released shortly.
Tickets can be purchased at www.rwhs.co.uk or by telephoning the box office on 0844 581 4960 from the UK and +44 (0) 121 796 6290 internationally. Or locally at Windsor Information Centre either over the counter or by telephoning +44 (0) 1753 743907.