Nupafeed Supplements to sponsor the Senior Discovery Championship for 2021
Tuesday 17 November 2020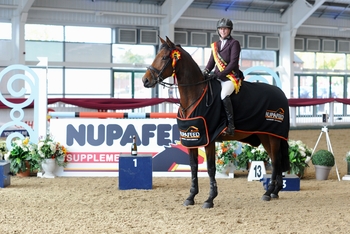 Equine supplement company, Nupafeed, has confirmed that it will continue with its sponsorship of the British Showjumping Senior Discovery Championship for 2021, marking seven consecutive years of alignment.
Imported from Germany, Nupafeed's equine supplements combine advanced scientific research with the highest quality ingredients to make their products truly unique. The Nupafeed range includes: the highly acclaimed MAH® Liquid and Syringes to calm and reduce stress, Flex GLM (Green Lipped Mussel) joint supplement and Staying Power to aid energy, strength and stamina.
Used by top professionals, including Ben Maher, Nupafeed products are permitted for competition and are available by mail order. Nupafeed aims are to ensure an unbeatable quality of product, supplied with friendly and honest advice. The team have experience in conversing with customers who represent all levels of horse ownership, in every discipline.
The Nupafeed Supplements Senior Discovery Championship is a favourite in the national showjumping calendar. It is for registered horses in Grade C that have not won a total of 225 points and they are to be ridden by an Adult, Associate or Junior Member. All registered horses aged five years and under in the same calendar year as the Championship Final, irrespective of points, are also eligible to compete. The series culminates with the Championship Final held during the British Showjumping National Championships.
Sheila Noble, Director at Nupafeed UK, said "We are delighted to once again be sponsoring the Nupafeed Supplements Senior Discovery Championship. We feel it is important for us all to recognise and support the hard work of everyone involved in keeping the shows running during the global pandemic. I am sure it is very much appreciated by the riders, so many of whom we see enjoying our championship."
Maria Haig, Head of Communications at British Showjumping added "The last six years of alignment with the Senior Discovery Championship has proved to be successful for Nupafeed Supplements and with that in mind, we are delighted to be announcing their seventh consecutive year of sponsorship. Their passion for supporting this Championship is very much appreciated and we are looking forward to another year of working together."
Image: Emma Jo Slater & Happy Feet - Nupafeed Supplements Senior Discovery Champions 2020 CREDIT Majestic Photography
Nupafeed:
For further information on Nupafeed UK, please visit www.nupafeed.co.uk or contact the team on 01438 861900 or info@nupafeed.co.uk.