Megan Li dominates the National Children on Horses Championship
Thursday 06 August 2020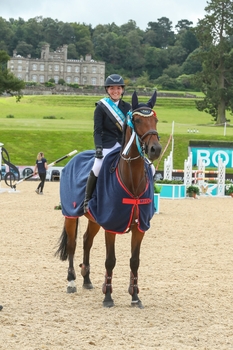 16 year-old Megan Li put in some exceptionally strong performances this morning at the NAF Five Star British Showjumping Championships resulting in her dominating the National Children on Horses Championship which was sponsored by E-Vet Drug Ltd not only winning the title but also taking three of the top four placings.
The 1.30m class, which was also serving as a British Team Viewing Trials, had seen only six combinations manage to get through to the second round; with three of them being Megan on each of her rides. With the jump-off course set Megan was first to go riding the 10 year-old mare Rumbolds Starlight where she lay down the gauntlet by putting in a very fast forward-paced clear in a time of 39.42 seconds leaving no space for anyone to be turning tighter than she had.
Setting the standard for others to follow, it wasn't until another clear wasn't achieved until she came back into the arena on her second ride Edinburgh, an 11 year-old gelding, on whom she stopped the clock at 53.62 seconds.
With no other jump-off clears achieved the placings were then settled based on fault and time and it was Sophie Evans with Mhs La Scala a 12 year-old mare that took 3rd with Megan securing 4th place as well with her 11 year-old gelding Ego.
Talking about her win and the class Megan said "The first round was quite full up, I didn't expect it to be that big but all mine jumped it fine. The mare [Rumbolds Starlight] I don't know that well as I had actually only sat on twice as I've been really lucky to have just been given the ride on her from owner Simon Davies. I spoke to Simon and he told me to just trust her she's got the experience and to out and win it! I was then really shocked when we won as it's been quite a big pressure taking the ride on – but she's such a nice horse it was actually quite easy in the end".
About her other rides and the show she said "With Eddie [Edinburgh] I went for a nice steady clear as he's another one I don't know particularly well as I only started riding him at the end of last year and with the lockdown we haven't been able to get out much. I was also happy with Ego as he has only just stepped up to this level and I'm back here on Sunday for the Grade C. It's been a really good show and I've enjoyed it here; even with the social distancing measures in place it hasn't detracted from the atmosphere which is great".
The NAF Five Star British Showjumping Championships run between 3 – 11 August at Bolesworth and further information on the show can and full results can be found by visiting https://bit.ly/3fqDsmX