Matthew Sampson and Geneve R win the CSI3* CHG Grand Prix at Autumn MET III 2021
Monday 06 December 2021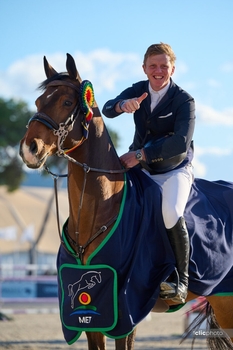 It was a sixty strong starting field that came forward yesterday to conclude the second week of the 2021 Autumn MET III in Oliva Nova, Spain in the CSI3* 1.50m Grand Prix.
The course designed by Javier Trenor proved challenging with just seven combinations navigating a first round clear to qualify for the jump off. Two of the seven were carrying the union flag in the form of James Smith and Matthew Sampson putting Great Britain in a strong position.
James Smith from Kirkcudbright, Scotland with the twelve year old grey gelding Simply Splendid owned by Leona Smith was first to go and had an unlucky pole down to finish on four faults in a time of 43.19 seconds.
Second to go was Mathew Sampson from Sheffield, South Yorkshire with his own ten year old bay gelding Geneve R. Riding the inside turn to the penultimate vertical to cross the finish line in 39.88 seconds putting the pressure on those that followed. The time was too good to beat though and Mathew secured his place at the top of the line up with Brazil's Thiago Ribas Da Costa taking the runner up place on 40.05 seconds.