Horse Victory's Fayot wins Foxhunter Championships
Thursday 06 October 2016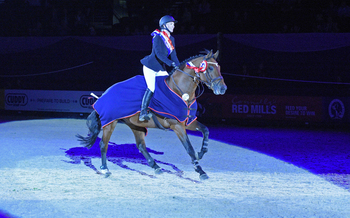 Welsh challenger Laura Pritchard recorded the highlight win of her career so far when she captured the Senior Foxhunter Championship at the Horse of the Year Show.
The 22-year-old from Anglesey guided Horse Victory's Fayot home by half a second from runner-up Billy Twomey and Eindhoven GH, with Richard Barton taking third spot on Donata at the NEC in Birmingham.
Previous winners of the class, which was first contested in 1954, include Harvey Smith, Graham Fletcher and Michael Whitaker, but Laura added her name to that list in impressive fashion after delivering a confident jump-off performance.
"I felt pressure, but not too much, because I always know that he never lets me down. This means everything to me," she said.
"I just try to concentrate on what I am doing and not what everyone else is doing. Winning this class is so surreal, but it has happened!"
Laura's round was just halfway through the jump-off, and she added: "I was half-watching the others go. I kept looking back at the television in the collecting ring, and I thought the last two might be quicker, but we managed to do enough.
"I jumped him in the Newcomers on Wednesday and we were third, and I knew we were ready.
"He has a very bright future. I think he is going to be a very special horse. I am always confident on him, and when I jumped the first round I said to my Dad 'today's the day'. It is the best day of my career, by far."
AUDIO OF LAURA PRITCHARD, WINNER OF THE SENIOR FOXHUNTER CHAMPIONSHIP AT THE HORSE OF THE YEAR SHOW IN BIRMINGHAM
http://www.lloydbell.co.uk/access/client_zone/Hoys_Pritchard_day2.mp3