Harry Charles & Borsato claim major win in Geneva
Saturday 11 December 2021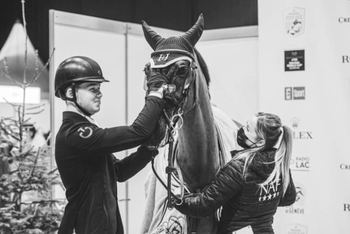 It was a tremendous win for Harry Charles and the 15 year-old gelding Borsato in Geneva earlier today when they won the challenging Cupe de Geneve competition which also serves as the final Grand Prix qualifier.
From the field of thirty starters they were one of ten that came forward to contest the jump-off. It was an insightful round by Harry that managed to see him win by a fraction of a second when he daringly cut across a bank to turn back towards a fence towards the latter end of the course. Driving hard through the finish line clear in 35.07 seconds he manged to shave more than a second off Rodrigo Pessoa's (BRA) time who had held the lead at that point with Carlito's Way 6.
The 1.60m course was a testing one and talking about the opportunity he made the most of that other's before him hadn't spotted he said "When I walked the jump-ff course I saw there was an option and everything just came out perfectly. I've had him [Borsato] the longest and he is my most experienced horse but this was actually our first win. I have always wanted to win in Geneva as so many things come together to make this show so special; it is a pleasure to ride here."
Harrie Smolders (NED), Zoe Conter (BEL) and Francois Jr Mathy (BEL) came 3rd , 4th and 5th respectively whilst Jack Whitaker finished 6th on Valmy de la Lande for Great Britain with Ben Maher also appearing in the line up in 9th place on the impressive stallion Faltic HB.
The Grand Prix takes place at 15:00 local time tomorrow and will be covered on www.clipmyhorse.tv. Further details from the show can be found at www.chi-geneve.ch Full results from the Coupe de Geneve here