Emily Rodney jumps to victory in KBIS Insurance Senior British Novice Second Round at Rectory Farm
Monday 26 June 2017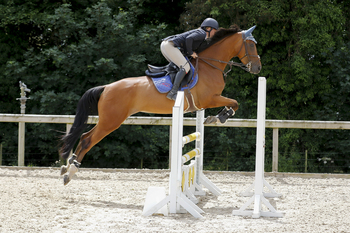 Delivering a faultless treble clear, Emily Rodney shot in to first place in the KBIS Insurance Senior British Novice Second Round at Rectory Farm near Cirencester, Gloucestershire.
Each of the seventy-six combinations came forward with their sights firmly set on securing a place in the KBIS Insurance Senior British Novice Championship Final which is to be held at the British Showjumping National Championships in August. A treble clear performance over Alison Naylor's course was the main aim as this would claim a qualification place and what unfolded was a very competitive class.
After two action packed rounds, twenty-nine talented horses and riders were left to go head to head against the clock in the jump-off. Emily Rodney from Dyfed jumped into first place on board her own Miss Saigon Van De Netev Vallei, a 5 year-old bay mare that she has produced herself. This partnership took on the class with a hope of finishing in the top six and after producing two consistently clear rounds to take their place in the jump off, their hopes were high. They went on to deliver another clear round in style in the jump off and they stopped the clock in an unbeatable time of 51.29 seconds.
Emma-Jo Slater from High Wycombe, Buckinghamshire claimed second place riding Kim Barzilay's 7 year-old grey mare, Fielina II. This pair put in a strong challenge as they crossed the finish line with a treble clear in 51.80 seconds.
Third place went to Abbie Shackell from Pilning, Bristol riding her own 8 year-old bay gelding, Okiwi Bay. This combination delivered their treble clear in 52.54 seconds.
With a further ten riders also achieving a treble clear, thirteen combinations will now go forward to the KBIS Insurance Senior British Novice Championship Final.
Rectory Farm – Sunday 25th June 2017
KBIS Insurance Senior British Novice Second Round
1st Emily Rodney & Miss Saigon Van De Netev Vallei – 0/0/0 – 51.29 seconds
2nd Emma-Jo Slater & Fielina II – 0/0/0 – 51.80 seconds
3rd Abbie Shackell & Okiwi Bay– 0/0/0 – 52.54 seconds
4th Samantha John & NPS Florida – 0/0/0 – 54.16 seconds
5th Anna De Verteuil & Ballycoolan Rosie – 0/0/0 – 54.17 seconds
6th Lucy Davis & Halida II – 0/0/0 – 56.29 seconds
7th Martin Brake & Tinkas Symphony - 0/0/0 – 57.85 seconds
8th Claire Chambers & NPS Estelle – 0/0/0 – 57.93 seconds
9th Sophie Coombs & Flying Fox – 0/0/0 – 59.28 seconds
10th Phoebe Parker & Glendilana – 0/0/0 – 62.83 seconds
11th Amanda Kent & Dutch Noble Look Z – 0/0/0 – 68.33 seconds
12th Sophie Gregory & OH Casanova – 0/0/0 – 71.41 seconds
13th Charlotte Whittall & Johnny Splash – 0/0/0 – 71.93 seconds
NB: Qualifications will be updated pending grading of results.
Image Credit - Top Shots Photography
The British Showjumping National Championships 2017 will be hosted at the National Agricultural and Exhibition Centre (NAEC), Stoneleigh Park, Warwickshire during the 8th - 13th August.
KBIS British Equestrian Insurance:
KBIS British Equestrian Insurance is the UK's leading independent horse insurance specialists, With over twenty years of experience KBIS offer a range of policies for the leisure horse to high value sports horses with a range of veterinary cover options. KBIS's product range includes horsebox and trailer insurance, property insurance, event and show insurance, standalone personal accident cover as well as a specialist liability department offer cover for private individuals, businesses and events and shows. For further information, visit www.kbis.co.uk.