Day two of the Dodson & Horrell Bolesworth International Horse Show
Thursday 30 June 2022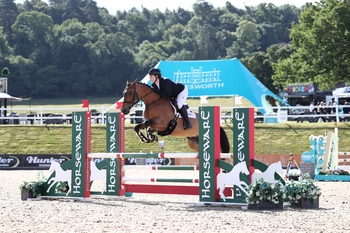 The second day of the Dodson & Horrell Bolesworth International Horse Show (June 30th, 2022) witnessed another full-on day of packed arena action at its scenic Cheshire showground.
The highlight of the day came in the final class when Anthony Condon, riding Creevyquinn Pearl, won the highly-prized opening Dodson & Horrell 1.45m GP qualifier ahead of Jay Halim on Aragon Z – who had a successful day with a win, second and third across three classes, and Adrian Speight on Millfield Baloney. It was a hard-fought and hotly-contested two-phase 1.45m class that serves as a qualifier for Sunday's Dodson & Horrell Grand Prix finale. Eighty-six of the best showjumpers competed this afternoon, with the top 25 seeded through to Sunday, 3rd July. This will be repeated tomorrow, Friday the 1st of July.
"I'm absolutely delighted with this win here at Bolesworth today with Creevyquinn Pearl. I went out early in the session, and I set a good pace, but there were a lot of fast riders out there and anything could have happened. Luckily it was our day and we won.
"It's a great education for an up-and-coming young horse like Pearl to perform in this unique style of arena with close spectators, the moat, and the atmosphere It's good to step up a level, it's a little different and Pearl put on a good performance, I'm proud of her.
"I'm looking forward to the Grand Prix on Sunday with my best horse Vimcomte, but we have a very busy weekend ahead as my fiancée and I have 11 horses at this event."
Jay Halim won the Bloomfields Horseboxes CSI3* 1.40m with Gentle. He was followed by Jude Burgess on Dreams of Don and Annabel Shields with Creevagh Carisma. Said Jay; "It was a good start for him, it was his first day jumping, and he handled it well. He runs on his adrenaline, he's a very good horse, but can be a little wild. However, he was careful today and it worked in our favour."
Kerry Harris was victorious in the Cavago CSI3* 1.35m with Wellington M. Louise Saywell was second on Sharp Image and Jay Halim, in a busy afternoon of jumping, was third with Winning Moon. A thrilled Kerry said; "It's great to be here, he jumped really well around Ben's (Townley) courses. Wellington M is 19 now, he's been a really good solider. He's been here before too and has won in the main ring, so I'm really pleased to win again."
Elsewhere in the Bolesworth International and Castle Arenas, the top three in each class were:
Windmill Farm Estate CSIYH1* 6 year old 1.25m: 1. Maisy Williams, Gold Rush, 2. Phillip Spivey, Billy Foxtrot, 3. Gemma Tattersall, Cinsey Blue PS.

Bolesworth CSI1* 1.30m: 1. Corinne Collins- Dolores P, 2. Red Morgan – True Blue III, 3. Marnie Darcy Green- Ice Cold Z.

Recycling Lives CSI-Amateur 1.05m: 1. Grace Wallace - Eau Claire V, 2. Grace Wallace - Ilena Vd Bisschop, 3. Holly Gair – Top Line Bellini.

Hunter Woodshavings CSI-Amateur 1.15: 1. Arianna Kuligowski – Ivascalle, 2. Rachel Gredley – Alicante Z, 3. Abdalla Hamad Ali Al Kirbi – Emirats De Vie.

Röwer & Rüb (UK) CSI- Amateur 1.25m: 1. Vicky Lovegrove – Babel, 2. Tony Pearson – Berlin, 3. Maisy Williams – Contella.

Equitop GLME CSI1* 1.25m: 1. Jennifer Billington – Honfleur, 2. Charley Hamilton- Horatio Van Ter Hulst, 3. Georgia Taylor-Jones.

Looking ahead to Friday at Bolesworth
The timetable for Friday, the 1st of July is as follows.
International Arena:
Hunter Woodshavings CSI-Amateur 1.15m- 08.00
Röwer & Rüb (UK) CSI-Amateur 1.25m- 09.40
Bloomfields Horseboxes CSI3* 1.40m- 11.20
Al Shira'aa CSI-YH 7 Year Old – 14.00
Dodson & Horrell CSI 3* 1.50m GP Qualifier- 16.50
Science Supplements A List Auction – 21.00
Castle Arena:
Bolesworth CSI1* 1.30m- 08.00
Beaverbrooks CSI YH 5 Year Old – 10.40
Recycling Lives CSI-Amateur 1.05m - 13.20
Science Supplements Yearling Auction Preview – 14.45
Horseware Ireland CSI1* 1.35m – 15.10
JCL Insurance Brokers CSI P 1.25m – 17.30
Blossom Home Care CSI P 1.10m – 18.50
Visit Bolesworth
Tickets are still available to buy for Day 3 of the Dodson & Horrell Bolesworth International Horse Show, book on-line via www.bolesworthinternational.com