Connie Mensley scoops the Blue Chip Pony Newcomers Second Round at The Scottish National Equestrian Centre
Tuesday 20 July 2021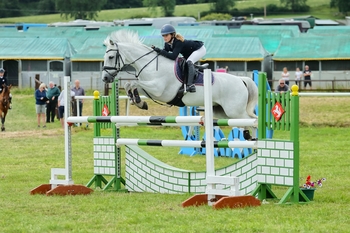 Eleven year-old Connie Mensley from Thurcaston, Leicestershire jumped straight in to first place in the Blue Chip Pony Newcomers Second Rounds which took place at The Scottish National Equestrian Centre on Sunday riding Charlie McDonald's twelve year-old grey gelding, Wilma Star.
Against a starting field of thirty-five keen combinations, Connie rode two clear rounds for a spot in the final jump off along with thirteen other talented combinations. Riding clean lines with speed and accuracy, this combination proved unbeatable as they took top spot in just 35.30 seconds.
Scottish National Equestrian Centre – Sunday 18th July 2021
Blue Chip Pony Newcomers Second Round
1st Connie Mensley & Wilma Star – 0/0/0 – 35.30 seconds
2nd Rachel Proudley & Orchids Moyana – 0/0/0 – 33.79 seconds
3rd Kitty Griffiths & Riversdale Chylass – 0/0/0 – 34.56 seconds
For the full results click here
For the list of qualified riders so far click here.
NB: Results pending official grading.
Image: Connie Mensley & Wilma Star on Sunday at SNEC (Credit – Sinclair Photography)
Blue Chip:
Blue Chip Feed Ltd produce the highest quality feed balancers and supplements available in the UK; there is a feed balancer for every stage in a horse's life to ensure optimum health and well-being. Blue Chip products are exported worldwide. For more information please visit www.bluechipfeed.com.