Charles Owen form a Business Partnership with British Showjumping as 'Official Helmet Sponsor'
Tuesday 08 December 2020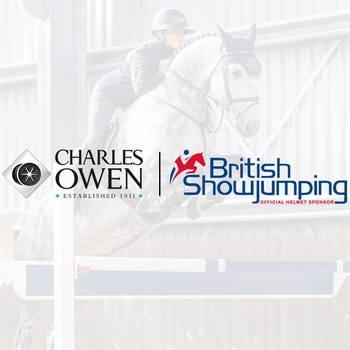 In an exciting new collaboration, British helmet manufacturer, Charles Owen, has formed a new partnership with British Showjumping as the first Official Helmet Sponsor. In doing so, Charles Owen will become a key partner in driving more safety awareness in the sport as well as underpinning the performance pathway programme via the funding of the International Stairway series amongst other national series, finals and events.
Charles Owen has been manufacturing the highest-performance riding helmets in Britain since 1911. Their products are sought after around the world and are worn by some of the top Olympic athletes in showjumping as they are widely regarded as the safest helmets on the market.
Every helmet is handmade by a skilled UK technician, using the highest quality materials at their award winning, factory in Wales. For 110 years they have been on a mission to improve rider safety and their designers and engineers are constantly raising the bar of safety innovation, developing the state-of-the-art helmets of tomorrow.
Matt Bullock, CEO of Charles Owen, said "We are thrilled to be partnering with British Showjumping and are truly honoured to be the first Official Helmet Sponsor of the institution. We've identified that together we can collaborate as organisations to improve safety in the sport. It's our mission and responsibility together to raise awareness of equestrian safety standards and use our experience of helmet development and research into brain injury and concussion to save more lives and ultimately make the sport safer."
Maria Haig, Head of Communications for British Showjumping commented "We feel fortunate that a highly respected company such as Charles Owen has decided to invest into the British Showjumping Business Partnership and we are excited to develop our relationship with them as the Official Helmet Sponsor for the sport. A key part of this alignment will be the sharing of the expert information and research that the team at Charles Owen has in order to expand the knowledge of those choosing what helmet is best for them."