British Showjumping's Team NAF Veteran European Championship Announced
Friday 16 July 2021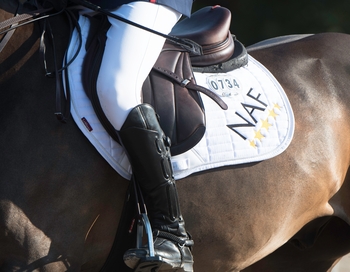 The following riders have been selected to represent Great Britain at the Veteran European Championships under the title sponsor of Team NAF. The European Championships will take place in Le Man, France between the 28th July to 1st August 2021.
Ellen Blackburn, from Burnley, Lancashire on her own 7 year-old bright bay mare Millfield Lyric.
Helen Rees, from Llanelli, Carmarthenshire on her own 15 year-old bay gelding Bart VI.
Julia Hardy, from Chesterfield, Derbyshire on her own 11 year-old chestnut gelding Mista Blue.
Michaela Tomlinson, from Warlingham, Surrey on her own 11 year-old grey mare Birmena.
Sharon Polding, from Ashford, Kent on her own 14 year-old chestnut mare FindonFirecracker.
For further information on the show and full results once the show is underway visit https://bouleries.marieh.eu/
British Showjumping would like to thank NAF, title sponsors of the Senior Nations Cup Teams along with the Pony, Children, Junior, Young Rider and Veteran teams.
NAF's premium range of Five Star brands include Superflex, Superflex Senior, PROFEET, Optimum, Magic, Oestress and Respirator Boost with quality at the heart of everything they do. They are a UFAS (Universal Feed Assurance Scheme), GMP+ (International Feed Assurance Scheme) and BETA NOPS (Naturally Occuring Prohibited Substances) accredited company and this enables them to guarantee full traceability on all the natural ingredients they utilise in their formulations, which are also selected in compliance with the FEI guidelines for Clean Sport. For further information, visit www.naf-equine.eu/uk/index.jsp.
The GBR showjumping teams are supported by the British Equestrian Federation's World Class Programme, funded by UK Sport through the National Lottery. The Programme focuses on identifying talent, developing potential and maximising medal-winning performances on the world stage. The teams are further supported by LeMieux, who supply the teams with saddlepads and rugs.