British Showjumping's Team NAF Pony European Championship Announced
Wednesday 28 July 2021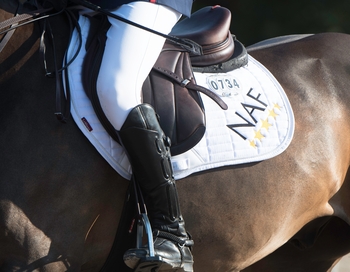 The following riders have been selected to represent Great Britain at the Pony European Championships under the title sponsor of Team NAF. The European Championships will take place in Strzegom, Poland between the 11th and 15th August 2021.
Lauren Caroline, aged 16 years from Horsham in West Sussex, with the 16 year-old brown gelding Kissemmie Chatterbox owned by Lee Caroline.
Poppy Deakin, aged 14 years from Dalton in Newcastle upon Tyne, with the 11 year-old liver chestnut mare Armene Du Costilg owned by Kerstin Deakin.
Sophie Evans, aged 14 years from Burton-on-Trent in Staffordshire, with the 11 year-old bay stallion Oscar Van De Beekerheide owned by ESM Equestrian.
Elissa Herrmann, aged 15 years from Winchester in Hampshire, with the 11 year-old dun gelding Lapislazuli owned by Edwina Herrmann.
Henry Squibb, aged 14 years from Brentwood in Essex, with the 13 year-old dark brown stallion Kilcurry Dawn owned by Emily Fenn.
For further information on the show and full results once the show is underway visit http://strzegomponies.pl/en/
British Showjumping would like to thank NAF, title sponsors of the Senior Nations Cup Teams along with the Pony, Children, Junior, Young Rider and Veteran teams.
NAF's premium range of Five Star brands include Superflex, Superflex Senior, PROFEET, Optimum, Magic, Oestress and Respirator Boost with quality at the heart of everything they do. They are a UFAS (Universal Feed Assurance Scheme), GMP+ (International Feed Assurance Scheme) and BETA NOPS (Naturally Occuring Prohibited Substances) accredited company and this enables them to guarantee full traceability on all the natural ingredients they utilise in their formulations, which are also selected in compliance with the FEI guidelines for Clean Sport. For further information, visit www.naf-equine.eu/uk/index.jsp.
The GBR showjumping teams are supported by the British Equestrian Federation's World Class Programme, funded by UK Sport through the National Lottery. The Programme focuses on identifying talent, developing potential and maximising medal-winning performances on the world stage. The teams are further supported by LeMieux, who supply the teams with saddlepads and rugs.