British Equestrian Dressage team secure Team Bronze in Tokyo
Tuesday 27 July 2021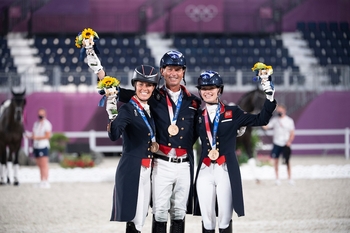 Dressage team secures bronze and Charlotte Dujardin adds another accolade to her collection
The Tokyo 2020 dressage team competition reached its climax today with the Grand Prix Special. Team GB's squad of Carl Hester and En Vogue, Charlotte 'Lottie' Fry and Everdale, and Charlotte Dujardin and Gio, had finished the qualifying Grand Prix in second behind Germany but, with the scores were wiped clean for the final, there was still everything to play for under the floodlights of Equestrian Park.
CARL HESTER AND EN VOGUE
First out for Team GB, Carl Hester (54) and En Vogue got the British medal campaign off to a flying start. Today's performance had none of the minor wobbles that marred their Grand Prix test – 12-year-old Vogue, who Carl co-owns with Sandra Biddlecombe, Lady Anne Evans and Charlotte Dujardin, looked far more at home in the Equestrian Park stadium than he did on Saturday night. This meant that Carl was able to take full advantage of the Jazz-sired gelding's canter work party pieces.
"That was really cool," Carl commented afterwards. "I've struggled with his nerves and finding the right ride together – if I get him too forward then he's too tense, but if I don't ride him enough then we make mistakes – I just had a great balance tonight. It's an old cliché, but I feel that he arrived here in Tokyo as a boy and went in there tonight as a man.
"He did everything I asked – he walked, he halted – all the little things that are so important. I'm still putting the details together, but he feels like one of the best horses you could ever sit on. When he's in gear, you're just in the air – he's an amazing horse. We've had him since he was five, and I watched Charlotte with him in the early days and he was quite a handful. We've always known that he's so talented, so I've just been waiting for the right ride so that I could prove that he is what we think he is – and he's not the finished article, he's only at about 80%."
The judges rewarded them with 78.344%, just a fraction off their personal best at international level.
LOTTIE FRY AND EVERDALE
Before her Olympic selection, Lottie Fry (25) was relatively unknown – while she'd made her mark in dressage circles thanks to her results in Europe, it's only in Tokyo that she's come to the attention of the wider public consciousness in Britain. Based in the Netherlands but originally from near Scarborough in Yorkshire, she's impressed those watching the Games with her ice cool demeanor, precise riding and the harmonious relationship she has with the fiery 12-year-old stallion Everdale (Lord Leatherdale x Negro), who she co-owns with Van Olst Horses.
While their Grand Prix Special test wasn't without fault, with Everdale breaking into canter instead of passage, it was enough for a score of 76.854%.
"We had the mistake near the beginning, but I picked up him after that because I knew we couldn't afford to lose any more marks, and he listened and gave everything from that point on," said Lottie. "I was so happy – a lot of things felt better than yesterday, so I couldn't ask for more.
"I guess there's a bit of pressure, especially being on a team with Carl and Charlotte who've done this so many times and are completely amazing, but we have such a supportive team and I really felt that Everdale and I are at our best, so there isn't much to be nervous about.
"I really love competing and this arena is so amazing to ride in. Even though there are no people, there's still so much atmosphere and I'm loving every second of it. I didn't really know what to expect, so it's difficult to prepare until you're actually here, but Carl and Charlotte have experienced it all before so they've given me a lot of support. My trainer, Anne Van Olst, has done five Olympics, too, so everyone contributing like that has helped me prepare.
"Right now, I'm pretty speechless to be honest. I've just had an amazing time so far and I'm so happy with Everdale. He's really tried his heart out for me out there."
CHARLOTTE DUJARDIN AND GIO
The penultimate combination into the main arena was Charlotte Dujardin (35) and Gio. With strong performances from Denmark and the USA preceding them, the pressure was on to secure a medal for Team GB.
Gio (Apache x Tango), who Charlotte co-owns with Renai Hart and Carl Hester, has won legions of new fans this week due to his small stature, cheeky personality and elegance between the white boards. However, like En Vogue, he is inexperienced at this level and this showed a few times during a test that was otherwise filled with precision and poise.
" I was really pleased with him – that's only the second time he's done the Special," explained Charlotte. "He had a little mistake in the ones and I think I just overrode the piaffe into the walk, but apart from that, I was absolutely thrilled with him. He's tried so hard over the past few days and he's only 10 years old. For what little competition he's done, I couldn't ask for more and it might be a bronze, but it's like a gold medal because I feel as though he's given me absolutely everything."
Their final score was 79.544%, securing Team GB a place on the podium.
TEAM BRONZE
The final scores after all combinations had ridden saw Team GB take the team bronze medal behind a strong USA in silver and the German favourites in gold.
"It's just been a fantastic last few days," said Charlotte. "In the Grand Prix, we all did really, really well and two of us got personal bests. Tonight, to actually get a medal – we knew it was going to be tough because both of Gio and En Vogue have done hardly any shows. This year has been so hard, everything got cancelled and we've hardly taken them to Europe to compete, so coming here was a bit of the unknown for us. They've just delivered, I couldn't ask for more than what they've given us.
"It's been fantastic, the three of us have ridden as a team, we've had so much fun and with Lottie doing her first Olympics at the age of 25 – she's just got nerves of steel, she just goes down the centre line and delivers those tests. She's unbelievable. I feel very proud for her and she's helped us get this medal. Carl's the rock of the team, he supports us all and keeps us going. We're so lucky to have the team that we've got."
BEST OF THE BEST
Today's result means that Charlotte has now become the joint most decorated British female Olympian, following her double gold in London 2012, and individual gold and team silver in Rio 2016. She joins rower Dame Katherine Grainger and tennis player Kathleen McKane Godfree on five medals, with Charlotte having the most gold medals of the three.
"I didn't even know that until a minute ago," Charlotte said at the press conference that followed the medal ceremony. "That's pretty cool isn't it. It's unbelievable. I just keep saying 'I've got a medal, I've got a medal' because it was such as unknown if we were going to do it. We knew the Germans were strong, the Danish were strong, the Americans were strong, there were so many teams that could medal and we didn't know who was going to get it, but we all had that fight. I feel so lucky to have come away with this and I'm honoured to be here to represent my country and get another medal."
With three young horses making their championship debuts and a new star in Lottie Fry, the future of British dressage is looking bright with Paris 2024 now only three years away.
Full results from the Grand Prix are available here.