Amy Inglis claims Grand Prix title in Dinard
Monday 19 July 2021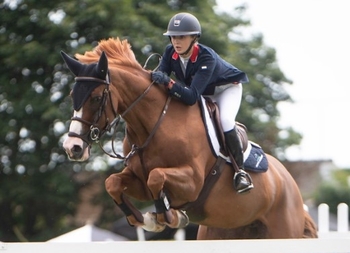 Amy Inglis scored a victory for Great Britain yesterday when she took the CSI3* Grand Prix L'eperon Charles de Cazenove title in Dinard, France yesterday.
From a field of almost forty declared starters there were just six combinations that managed to achieve a first round clear and qualify for their place in the jump off. It was Amy, on the homebred 13 year-old chestnut mare Wishes though that proved unbeatable when they posted a second round clear in a time of 41.51 seconds to claim the lead.
Their closes rival came in the form of Charlotte Bettendorf (LUX) with Nababette Z with a clear in 42.08 seconds followed by Juliette Faligot (FRA) and Arqana de Riverland who were also clear but in a slower time of 43.48 seconds to take 3rd.
Amy's outstanding performance with Wishes, who is owned and was bred by mother Claire Inglis, saw them as the only combination to break the 42 second barrier in the second round. Amy, who has produced Wishes since a novice, was the sole British rider in the field and to see her top the presentation line was a fantastic achievement for both herself, the team that support her as well as Great Britain.
For full results https://bit.ly/3zfGPHk