Adam Botham claims the British Horse Feeds Speedi-Beet HOYS Grade C Qualifier at Hartpury University Show
Monday 26 July 2021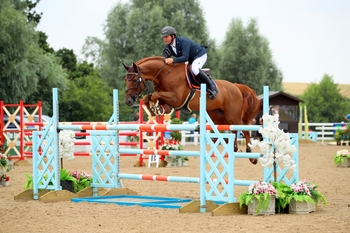 Hartpury University played host to a British Horse Feeds Speedi-Beet HOYS Grade C Qualifier on Sunday, and it was Adam Botham from Radway, Warwickshire who took home the honours riding Ebanking.
Over a challenging course, the initial start field of forty-four was whittled down to eighteen strong combinations who all delivered a clear round for a place in the jump off. Adam, taking clean lines went on to steer the seven year-old chestnut stallion owned by Barbara Hester into the top spot by crossing the finish line in 38.41 seconds.
Hartpury University Show – Sunday 25th July 2021
British Horse Feeds Speedi-Beet HOYS Grade C Qualifier
1st Adam Botham & Ebanking – 0/0 – 38.41seconds
2nd Adrian Whiteway & Chacco Volo – 0/0 – 39.92 seconds
3rd Helen Tredwell & Independence TN – 0/0 – 40.17 seconds
For the full results click here
For the list of qualified riders so far click here.
NB: Results pending official grading.
Image: Adam Botham and Ebanking at Hartpury on Sunday (Credit – Jasmine Punter Photography)
Speedi-Beet from British Horse Feeds:
British Horse Feeds, makers of Speedi-Beet, is the equine feed division of I'Anson Bros Limited and is based in Masham, North Yorkshire. British Horse Feeds is best known for its flagship product 'Speedi-Beet' which, thanks to the unique patented process has revolutionized the feeding of beet pulp. Speedi-Beet has improved nutrient availability and soaks in just 10 minutes, compared to 24 hours for sugar beet pellets. It's a great way to add quality fibre to your horse's diet for slow release energy. Fibre-Beet, a formulated blend containing Speedi-Beet and alfalfa has the benefits of Speedi-Beet with extra conditioning. For more information contact British Horse Feeds on 01765 680300 or visit our website on www.britishhorsefeeds.com.